It's official: Mighty Ducks are now the Ducks.
Thursday, June 22, 2006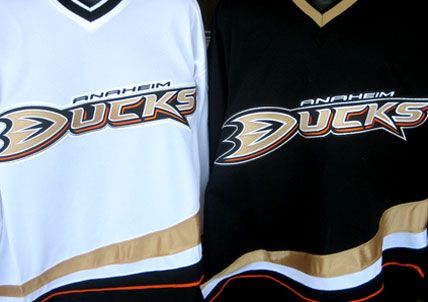 I guess when you look at the logo when it is
on
the jersey, it isn't as bad as I would have thought it would be. Up until now this (and another logo) were making their rounds on the Internet, and no one really had a 100% confirmation as to if they were real. If you're interested in seeing the other logo, I got an upload of the image
here
.
An interesting thing to note about the name change, too. Apparently sometime yesterday, the
City Council of Anaheim made absolutely sure
that it would be impossible to remove "Anaheim" from the team's name. And can you blame them? After what happened with the Angels becoming the "Los Angeles Angels of Anaheim" (what a mouthfull), it's completely understandable that they would want a written agreement that their city's name stay the dominant name in any new team name (and what a tongue-twister).
Due to the way the rules work, don't expect to see an alternate jersey for another two to three years. Apparently franchises can't create alternate team jerseys and logos until they have had a main jersey and around that amount of time.
0 Comments:
Post a Comment
<< Home