Zherdev, and Hats for Heroes.
Monday, August 28, 2006
Earlier in the day I'd been wanting to do my first entry in about a week, but Blogger was acting awry for some reason or another (does it ever need a reason?). So I'm only now getting around to this entry near midnight. But it's all good, right? No need to agonize over things when it's probably one of the slowest times in the current off-season.
Let's start off with the
fun rumor
that popped up sometime last week concerning Zherdev, which was:
Nikolai Zherdev to Toronto
Matt Stajan and a draft pick to Columbus
The only excuse I can even think of for this rumor popping up is that someone was either drunk, bored, or both. While some people have been quick to assume that this may very well have some legitimacy to it -- and considering it is MacLean you never know -- I find myself having the hardest time trying not to choke on this "juicy" piece of rumor meat.
Stajan is a solid player, for what it is worth. And he's also young. But he is far,
far
from Zherdev. There is also the fact that the Jackets need to have a strong showing this season if not flat out make the playoffs, and haggling for a future draft pick isn't going to help with the here and now, even if the Jackets get a player like Stajan.
My patience with Zherdev in this whole situation is growing thin, though. For a while I was understanding of his situation, especially considering MacLean's track record with wheeling and dealing with players. But as time has gone on, I've found myself more and more disenchanted with this ongoing drama. And frankly, I'm starting to wonder if Zherdev not coming back (and not being on any other teams for a year) may be a good thing, if he's going to take the team hostage like this. He's a great player, but this just seems to add a lot of undue stress to a team that is trying to make something of themselves this coming season.
But let's move on to something happier now. Something fun. Something like
Hats for Heroes
.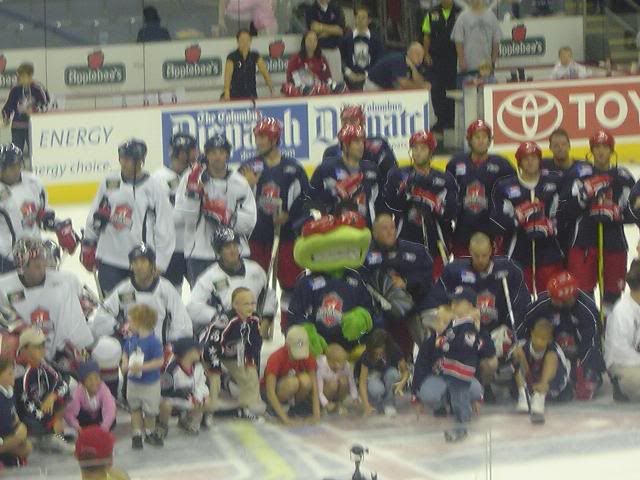 Here was the highlights from my perspective:
-The little girl with cancer -- Eden Adams -- doing her best to sing the National Anthem. I'm normally not a sap for patriotic broo-ha-ha, but this was different. Here Eden was (I'd guess she was only 4-5 years old), doing her best to sing it as she was coached along, in this meek and soft voice. There was probably very few -- if any -- dry eyes in the house from that alone.
-Another cancer patient -- Sullivan Plancon -- and the ceremonial puck drop. Just because he got everyone laughing as before he was even half-way to center ice, he went and threw the puck across the width of the rink. And then did it a second time when Tyler Wright and Rick Nash got together for the puck drop.
-The fact that I was seeing hockey again! I really don't care if this was lighter than light in terms of action. Or that it seemed like the 10-10 score was totally set up for kicks near the end just so we could see the FD and PD members take part in a shoot-out. It was just an awesome thing to do, and I am glad I was able to tide myself over with a little late August hockey.
-All of the players who are not Jackets -- or are no longer Jackets -- who came for this. First and foremost there was Tyler Wright, who has been the backbone of Hats for Heroes since its inception. Though he's now with the Ducks, he will always be welcome in Columbus for all he's done. Former Captain (now with the Tampa Bay Lightning) Luke Richardson also came back, as well as Andrew Cassels, who is now with the Capitals, and also retired Jacket turned minor league coach Kevin Dineen. There was also notable players such as Eric Lindros, who we'll all be seeing more of now that he's a Star this season.
-Rick Nash and his amazing stomach ache which kept him out from the 3rd period to the end. I think the people around me started to panic. He couldn't even make it to the autograph signing after the game, either. Hopefully it's nothing big. Then again, so long as he isn't out 10-20 games over the flu, I think things'll be fine.
-Hat signed by Pascal Leclaire! The conversation went pretty much along the lines of ...
M:

"Hey, Pascal."
P:

"Hey, how ya doing?"
M:

"Good, good. Think you could sign my hat?"
P:

"Yeah, sure. Where on it?"
M:

"Oh, anywhere."
P:

"... jeez, look at this. Dan Fritsche took up the whole hat, didn't he?" (referring to Fritsche's John Hancock across the bill of the hat)
M:

*Laughs.* "Yeah, he did that at the Draft Party before."
... and that was my 10 seconds with Leclaire. Corny, huh?
Anyway, it's getting late, and I want to get some sleep. So that's about it out of me. All in all, this was good fun that also helped out a great cause in fighting pediatric cancer.
0 Comments:
Post a Comment
<< Home