Game #03: Blue Jackets vs. Coyotes.
Monday, October 09, 2006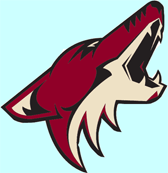 Columbus Blue Jackets
(1-0-1)
Phoenix Coyotes
(1-1-0)

After a topsy turvy weekend which had the Blue Jackets give up a lead and lose in overtime to the Vancouver Canucks at home, then storm back from being down 2-0 and hold on to win 5-4 against the Chicago Blackhawks the very next night in Chicago, it's time to see if the team can handle a visit from Wayne Gretzky's desert dogs
tonight
.
The most important highlights of tonight's game before it even begins? This will be the return of Nikolai Zherdev now that he's been given the green light for tonight, as well as the return of Rusty Klesla after he was suspended the first two regular season games for a questionable hit on Blackhawks' player Turomo Ruutu.
The question of the weekend has been who ends up sitting out with these two returning. Originally I'd judged that Alex Svitov or Mark Hartigan may become the healthy scratch for tonight, but double backed because of the fact that they're both centermen and so they're not compatible with being swapped out for Zherdev. That leaves Zherdev shuffling around the likes of Dan Fritsche, Jaroslav Balastik, or Anson Carter, as reported by Aaron Portzline of
The Columbus Dispatch
.
Consider each of those scenarios. Either way, Fritsche or Balastik look to be the odd men out depending on where Zherdev goes. I think what I am concerned about is the recent chemistry between Manny Malhotra, Jason Chimera, and Fritsche being put in jeopardy. Carter moving down to the third line, or Zherdev simply starting off at that line means that there'll be some time spent getting used to the setup between players.
There's a good chance that Zherdev may not even stick with just one line, depending on how things go tonight. Gallant's not scared of doing some shuffling of the lines, even when the team is ahead in a game, just to see how certain combinations will work. And with it being so early in the season, there's ample leeway to do so without too much concern.
In the end, I'm leaning towards guessing that Balastik is probably going to be sitting this one out. I get the feeling that the other night's show of cycling skill by Fritsche (along with Chimera and Malhotra in the final minutes of the Blackhawks game) is probably fresh in Gallant's mind. That, and although Fritsche and Balastik have one point apiece, Fritsche holds the advantage in +/-, breaking even at 0 while Balastik is a -2, meaning there may be some concern about his quality of effort in the defensive zone.
Meanwhile, while Rusty Klesla is also coming back, I'm not even going to try and take a stab in the dark at which defenseman sits out this game. The defense is so easily interchangeable once you get past the top line that it's really just a matter of compatability and who is hot and who is not at the time.
I'm going to wrap things up here, though. Man, I'm feeling totally drained and it's not even three o'clock in the afternoon! So apologies for not giving a little overview about the Coyotes and what to expect from them. Maybe if I snap out of this uber-grogginess I'll slide something extra up in an edit.
Go Jackets!
0 Comments:
Post a Comment
<< Home