Game #06: Blue Jackets at Penguins
Saturday, October 21, 2006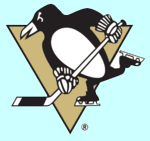 Columbus Blue Jackets (2-2-1)
Pittsburgh Penguins (3-3-0)

Two games in two nights!?
Oh my God
!
And about time, too. Though this isn't the first time this season the Blue Jackets have had a two games in two days deal, after all. The season opened up with a game at home Friday and then a game away Saturday. With any luck the Jackets will rebound much like they did that last time too, where they lost at home then won on the road.
Then again, they do have their work cut out for them. Tonight they'll be up against the Hamilto-- ... Winnip-- ... Quebe-- ...
Pittsburgh
Penguins, and their mini-versions of Gretzky and Lemieux (Crosby and Malkin, respectively).
So how are the Penguins doing? Well, by all accounts better than I think most people would have imagined. Coming in to this season the Penguins were projected to be at the bottom of the barrel once again, despite the maturing of goaltender Marc-Andre Fleury and Crosby, as well as Evgeni Malkin's debut this week. Speaking of Fleury, check out both his GAA and his save percentage ... over six games the kid has a 2.71 GAA and a .925 save percentage. But the most important part of that equation is the fact that the Penguins are
29th
in the league in shots allowed, averaging 35.5 per game. That's just sick. Reminds me of what Roberto Luongo regularly had to suffer through in Florida last season.
Despite the stellar performance by Fleury, the 3-3-0 record shows that despite the strong netminding, he isn't getting much support. The Penguins rank a mediocre 23rd in goals, and an abysmal 28th in shots per game. The twist here is their Power Play, which is ranked #2 in the league right now. So while they may not be scoring a lot, they
will
score if they get the man advantage, it looks.
Then again, the Jackets aren't exactly looking all rosey fresh after their last two games, either. 28th in goals (2 less than the Penguins), even less shots per game than the Penguins, and they're allowing a power play goal every fifth time they're down a man (80.6%)! The flipside is that even though the Jackets had the most wretched display of power play effort so far this season last night, they're still a respectable 6th in the league when it comes to their man advantage.
There's really a lot of questions swirling around the Jackets right now, even though this is just their sixth game of the season ... one of them being whether or not they can once again come back from a crushing defeat the previous night like they did at the start of the season. Another good question is whether or not the total roadblock that the top lines have hit recently will be overcome tonight? The top two lines have been kept completely off the scoresheet the past two games (though to be fair the whole team was kept scoreless in Minnesota), and the only people who produced were the Malhotra-Chimera-[Insertrandomwingerhere] line, and then Svitov with a laser shot in the waning moments of last night's game.
More disturbing is the total lack of energy that the defense seems to have. I already talked about this after last night's game, but it's a real concern to me that the defense is playing dead whenever the other team has the puck in the Blue Jackets zone. Have they been able to cut down shots? Frick yeah, and that's a good thing. But if they do give up a shot, they don't try and help Leclaire out. They just let him flop around like a fish flailing in vain to stop rebounds. And even if Pascal has the legs of a road runner, he can't "kick, save, and a beauty!" every single rebound on him.
So let's see what happens tonight. I'll be tuned in, new memorabilia mini-hockey stick in hand to use when happy or angry.
Oh, also ... while I was at last night's game, I was able to get a real low-quality recording of most of the new Blue Jackets' jumbotron CG opening on my digital camera. Hopefully I'll be able to upload that and show it sometime soon, for all those Jackets' fans who have yet to go to a game and see it. Really, I much prefer it over the old "zOMG swooping fighter jets!" thing last season.
5 Comments:
Post a Comment
<< Home