And it finally happened.
Friday, June 30, 2006
TSN - Lightning aquire Denis from Blue Jackets
Now that it's finally happened, I really don't know what to say. For all my going on about Denis all but being traded to another team up until now, it's weird to see it come to fruition. Maybe because Denis has been with the Jackets since day one? Sentimental value and whatnot from the fact that he was an original Jacket.
But this had to be done. There was no way around it. Denis wanted the starting role, and MacLean was unable to give that to him now that Leclaire is ready to take on the mantle of Jackets starting goaltender. In the end, this will be good just not for the Jackets, but also Denis, who will now have a chance to help another team out in desperate need of goaltending. Even if he is now a Lightning, all fans of the Blue Jackets should wish him all the best for everything he's done throughout the years he has been around here.
Waxing sentimental aside though, let's focus on our new Blue Jackets:
Fredrik Modin and
Fredrik Norrena
.
First, let's take a look at Modin. 31 years old, 6'4" 220, and a 54 point scorer last season. In fact, he has three 50 point seasons, and almost a fourth one with his 48 point season in 1999-00. He's a Winger (Left to be specific), so now the question arises concerning who is put on the first and second line. Rick Nash is a shoe-in for the top line, no doubt, so that fills one Left Wing slot. What this means, then, is that most likely Modin will anchor the second line's Left Wing, with Nikolai Zherdev taking on the Right Wing. The good thing about Zherdev is that he seems to have no bias towards one side or the other.
Even though I say Modin would fit well into the second line, there may be that possibility he could fit into the first. Though David Vyborny's output last season was commendable, with 60+ points, Modin has notably more experience, games under him, and total point output over the past several seasons. It will be interesting to see where Gallant puts each of them.
Now let's take a look at Fredrik Norrena, who I have never even heard of before. 32 year old goaltender who has never played a game in the NHL. TSN lacks any sort of scouting report on him, and so I really have no idea what to expect. He's definitely been playing a long time in pro leagues outside of the NHL it appears, and even has a silver medal from the Turin Olypics with Finland. What really opened my eyes was his .939 and .934 Save Percentage over the past two seasons where it was recorded. In the 05-06 season where he lacks a percentage, his Goals Against Average is still notable at 2.16.
I'm going to take a stab in the dark here and say it looks like MacLean went
way
out of his way to find a backup goaltender, by looking beyond the NHL. Will Norrena, who is in his early 30's and only now coming to the NHL, be able to take on the backup role in a sufficient and stable manner? Here's hoping.
NHL Hockey 21XX? Doubtful.
I'll get to my real post later on. But before that, I thought I'd toss something out in an entry after stumbling on to this video. Someone over at the hockey community at Livejournal found this. Suffice it to say, I'm a little ... um ...yeah, I can't even think up something witty to say about this.
It's like Fox Sport's glowpuck all over again. I bet this'd agitate the players beyond belief, too.
Junior Jackets, Prospects, and a bison burger.
Thursday, June 29, 2006
Okay, guys and gals. A new update from me should be sometime tomorrow. I actually went down to see a practice game between players on the Junior Blue Jackets at the Ice Haus (our new USHL team), and after that watch the training camp for about a dozen or two of the Jackets draft prospects, like Brussard and Picard, as well as Mason and Platt (who will be a UFA soon).
I'll have comments on that, and hopefully other things!

P.S. Bison burgers are rather strong in taste. They overpower the ketchup one would normally use, it seems, unless you smother it. Just random musing after having my first one down at the grill across from the arena (that Ted Turner owns).
Spector's take on the Denis trade rumors.
Tuesday, June 27, 2006
I'd normally not be up so early in the morning, being the lazy guy that I am (note: I started this at 8 PM, then took a break). But here I am, reading articles and browsing the web. Either way, while scouring the NHL section of FOX Sports, I noticed Spector had an op-ed up with his opinion on a
variety of ongoing rumors
. One of them turned out to be on the Marc Denis trade rumors surfacing.
"Jackets GM Doug MacLean declined to comment on Denis' availability, but if MacLean does move him he'll then have to shop around for an experienced starter. There's a belief that the Jackets would thrust promising Pascal Leclaire into the starter's role but he's only seen limited playing time thus far in his NHL career."
While I respect Spector's take on the matter, and know that he has much more experience than I do when dealing in rumors, analysis and commentating concerning possible deals and league ongoings, I must disagree with his opinion that the Jackets would be in need of a new starting goaltender if they traded Denis away.
The whole point of trading Denis to another team is to make room for Pascal Leclaire (and get something good in return, of course). Denis has not been shy about expressing his opinion concerning sharing time with the younger Jacket netminder, and if Leclaire was going to stay a backup next year, we more than likely would not be trading Denis elsewhere in the first place.
Even if Leclaire is the official starting goaltender for this upcoming season, that does not mean that he is going to have to become the next Ironman Martin Brodeur and start nearly every single game.
Do we need an experienced goalie? Yes, of course we do, since we currently lack any prospects who could come up as a backup, let alone do well if they need to start a game or seven. But we do not need a starter. We need someone who can fill in for Leclaire when he needs a break, or happens to get injured. I admit that there's still questions concerning Leclaire's fortitude after an injury at the halfway mark of the season, as well as a possible injury while down at Syracuse for the Calder Cup Playoffs. But bringing in another goaltender and slating him to start would put us back at square one, where Leclaire is backup and once again getting shelved despite his desire to be the starter.

I want to add ... even though I fully support Leclaire as the starter for next season, I still have a feeling of concern about the fact we're trading Denis. Honestly, if Denis wasn't set in the fact he needs to be the starter, I'd want him back. And no matter how one spins this, it'll still be a risk to have Leclaire start without Denis around to bail him out if he can't play a game. But you can't really breed success without taking a few risks, and this is one I think is worth attempting.

We've got a mystery on our hands, Scooby!
Monday, June 26, 2006
So MacLean is at it again, playing the role of Master of the Sleight of Hand when it comes to his double talk and his way of saying ambiguous yet very interesting things concerning what he has planned. Today's snippet? An interview with The Columbus Dispatch where our favorite GM makes comments concerning an incoming defenseman once the free agency period rolls around.
"I've already got a guy that I'm ready to sign early (in July) who's going to be a depth guy to take Suchy's place," MacLean said. "I've got a guy who's going to be a more experienced 30-year-old defenseman who'll come in, and we know he can play at the NHL level."
Very interesting. If I had time on my hands tonight, I'd do some player digging and look around at all upcoming, 30-year-old UFA defensemen. Perhaps someone out there knows a couple on their own teams that will be available?
Meanwhile, despite the fact that the draft has come and gone now, there's still plenty of rumbling and hinting at the fact that Denis is more than likely on his way out. So far Tampa Bay has been the only team mentioned by name with an interest, but there's plenty of teams out there looking into goaltenders at the moment. To name a few off the top of my head, we got the Lightning (obviously), possibly the Senators depending on what happens with Hasek and if they have faith in Emery after his playoff performance, and there's been more than enough Red Wings fans and bloggers commenting on the need to get a goalie and not rely on only Osgood and minor league prospect Jimmy Howard. There are also the Blues, who are questionable depending on if Lalime makes some spectacular comeback to his old form, or if they shop around,
or
even stick with Curtis Sanford and Jason Bacashihua.
There's plenty of questions that need answers as we wind down towards the start of free agency. Hopefully all will be answered before impatience kicks in.



10:01 PM Edit:

Looks like I was off about Lalime. As it is, he's unsigned for the coming year by the Blues, and I doubt they'll sign him, either. So let's take that option out for St. Louis when considering the choices they have when it comes to their goalie situation.

Live at the Bud Light Arena Pub ...
Saturday, June 24, 2006
Looks like I was in luck! There was an open Wi-Fi connection available within the area, and my laptop was able to pick it up just fine. I'm just a table down and away from the guys up front -- Rimer and everyone -- so this should be fun.
There's still 1h40m until the actual draft starts, but Dan Fritsche will be coming around 5 PM to sign autographs and meet with the fans, which should be fun. I was going to ask him how his brother is doing, since I know Tom is a prospect of the Colorado Avalanche.
So I'll be updating this throughout the draft party hopefully. Be sure to keep an eye on this.



4:24 PM:

I want to add, much thanks to the people running this shindig for letting me plug in where the hosts are plugged in. Fortunately enough there was an open outlet they weren't using, and so long as it stays unused, I'm allowed to use it. Good stuff, good stuff.



4:57 PM:

Ding, dong, almost 5 o'clock. Announcer mentioned a whole bevvy of things going on, from street hockey to table hockey outside, and it looks like Fritsche will also be outside for the autograph signings. Hats For Heroes are also going to be sold outside at $5 a pop. I'd get one if I wasn't so sadly poor at the moment.

Aaaand ... Pepsi Girls! Of course, right? What Blue Jackets functions is complete without the Pepsi Girls. Not that that is bad or anything.



5:18 PM:

Suddenly, Stinger! One of them!

Yeah, really. All of a sudden a huge blur of yellow mozies on past me to my left, and I about fall over in my seat because Stinger comes into my line out sight out of nowhere! Killer bees, man ... they sneak up on you.



5:38 PM:

So most people know that Columbus got rewarded the 06-07 draft. About 10 minutes or so ago, the logo for the draft was unveiled to fanfare.


Not bad at all. I personally like the alternate logo more than the regular logo. Though this makes you wonder if MacLean will keep denying that the alternate logo will become the primary logo in the future.
5:53 PM:
Spoke with Dan Fritsche for a moment, just to say hello and get my cap signed. I asked him if he thought his bro -- who is with the Avs -- will be coming up this coming year, and he admitted that he didn't see him coming up this year. Though anything's possible with call-ups. It'd definitely be cool to see the two of them meet in a game sometime this upcoming season.



6:18 PM:

And the 1st overall draft, after the Vancouver crowd boos the St. Louis representatives (which is taken in good spirit) ... Erik Johnson!

Unless something shocking happens, expect my next -- more informed -- comments to come when the Blue Jackets pick.



6:40 PM:

Okay, you got to admit that Ovechkin doing the choice for the Washington Capitals (Backstrom) was both pretty funny and pretty cool. Though I half-expected him to make the pick in Russian. I kid, I kid ... anyway, so far, things have more or less fallen into place as expected. Boston's up next, then C-Bus.



6:45 PM:

Ugh! And Phil Kessel goes to Boston. Mere inches away from having a steal of a deal, the Bruins pick him up to round out the top five. Now we're left with an interesting predicament, with a whole myriad of players as viable options for the #6 pick.



6:50 PM:

And with the #6 pick, the Jackets pick up

Derick Brassard

. TSN definitely was doting on him, and talking about how he is a great, great fit for the Jackets down the line. And honestly, I agree. Not just because of the fact that he is a great scorer -- and the Jackets are in dire need of scoring -- but also because he actually seems very eager to be a member of the Jackets and come to the city of Columbus.

The Columbus Dispatch wrote up an article on

Brassard's feelings on the city

, and you can tell how eager he is. I'm very excited to see him picked, and I wonder how long he'll be a project down in Junior or at the Syracuse Crunch (AHL) before he makes the jump up. Couple years, maybe?



7:10 PM:

GM Doug MacLean is talking with the guys on the radio, and he's also mentioning that Brassard will probably be spending time not with the Jackets before he comes up. There's really not any sort of rush. Sure, the Jackets need offense, but at the same time it'd be detrimental to bring him up too quickly before he prepares himself for the NHL.

Looks like he tried moving things up to #2 and #3, but there were too many complications. Considering that this draft isn't that in-depth beyond the first several picks, its understandable that none of the other teams would want to risk dropping lower than they need.

Lastly, MacLean has also said that while there are some deals being talked about between the Jackets and other teams, nothing looks to be coming to fruitition before the end of the draft. Looks like we won't be seeing any Denis deals with the Lightning now, unless something comes out of far right field.



7:23 PM:

Brassard is on the show with the guys, and he is talking about how he definitely feels he has a good shot at making it on the team for the upcoming season. Maybe I misheard MacLean when he talked about his projections for when he'd make it up to the team. Either way, I do know that it would be great to see him make the team during the summer and in the pre-season. He's fast, he's a playmaker (in his own words), and he's doing his best to bulk up.

... and he just said his number is 61. Oh no, number drama with Rick Nash! :D But not really. Maybe he takes 16? 60 or 62?



8:48 PM - back at home:

Well, after the on-radio interview with Brassard, things wrapped up and I -- as well as many others -- headed home. To be honest, that was actually pretty stressful. I'm normally not the kind of guy to just go rambling down to a party, let alone hook up and start blogging right in the middle of the fray. Man, imagine how much of a flake I'll be next year at the 06-07 draft when it comes to Columbus.

While I was there, I got to speak with one of the head radio coordinators who sat beside me at my table. But again, being the flake I am, I completely forgot her name. If you happen to be reading this, it was great talking with you and getting some insight in to how some things are run behind the scenes.

Obviously this live blog was very homer-ish, since I all but stopped after the Brassard pick. But honestly, that's okay. I'd probably be pulling things out of thin air if I tried to touch on most other team's picks and how they'd affect them beyond just the scouting report on each individual player.

I'm done for tonight, though. Good night, and don't forget to tip your waitress.



9:33 PM:

Okay, this is my

last

, last update. Honest. It looks like the Jackets and Sharks swung a draft pick deal ...
San Jose gets Columbus' 2nd round draft pick (#36).
Columbus gets San Jose's 3rd round (#85) and 4th round (#113) draft picks.

... eh. Well, it's rather hard to say what MacLean is thinking. Once you get past the first round it pretty much degenerates into draft pick chaos. Hopefully by later on tomorrow more information will be revealed as to who is picked at those parts of the draft, and what they can do.

And draft weekend is off to a riveting start!
Friday, June 23, 2006
Luongo to Vancouver; Auld, Bertuzzi and Allen to Florida
From a Columbus perspective, this is great news. The rumor mill in Hockeytown had all but put Luongo with the Red Wings for the next season, which would have been beyond frustrating for the rest of the Central Division. With Luongo now on his way to the Canucks, there is much more room to breathe during the regular season, thanks to the unbalanced schedule meaning only a possible four games against Luongo instead of eight.
Personal enjoyment aside, this is a good opening to a hopefully busy draft weekend.
The Rumor Mill: Marc Denis
First, the article by Michael Arace of The Columbus Dispatch ...
Denis mentioned in two potential deals with Lightning
Summing up what is mentioned, we have two situations:
Columbus
gives Marc Denis.
Tampa Bay
gives Ruslan Fedotenko, John Grahame, and a 2nd round draft pick.
Or ...
Columbus
gives Marc Denis and their 1st round pick (#6).
Tampa Bay
gives Frederik Modin and their 1st round pick (#15).
My take:
The first thing that should be pointed out -- and I thank a fellow poster over at Livejournal's hockey community for mentioning this -- is that Tampa Bay
has no 2nd round pick
. They gave away their 2nd round draft pick (#47), and that is now in the hands of the Phoenix Coyotes. There's the possibility that the 2nd round pick is in relation to a future pick in the 06-07 draft, but that's a pretty key part of a rumor to omit, accidentally or otherwise. So with this in mind, let's consider the first rumor impossible, null and void.
The second, however, is more plausible. However I'd be somewhat wary of giving away Denis for someone pushing 32 years old. Modin is a good, solid player, no doubt about it. He's been solid the past few seasons, and I would say in terms of comparing a goalie to a winger, he and Denis are about on the level.
This draft also doesn't seem to have much depth. The top prospects are all great, even if they're not all going to turn out to be Ovechkins, Crosbys, or even Phaneufs. But once you get around the middle of the pack, most people tend to agree that the skill plateaus and drops suddenly. Giving up the #6 pick when there is a strong chance that someone like a Kessel, a Backstrom, or even a Johnson might slip through the cracks because of a surprise pick ... it's very risky, in my humble opinion.
But there's no way around the fact that Denis looks to be on his way out, even if it isn't Tampa Bay that becomes his final destination. Pascal Leclair turned last season into his own break-out rookie season while not getting much notice beyond fans of the Blue Jackets. Regardless of this, he played well, he played solid, and barring injuries, he looks ready to take on a more stable, starter role with the team.
This, of course, leads to problems with Denis. Denis has made it abundantly clear that he is not happy with the role of backup, nor is he happy with sharing the starting role (Leclair also seems to feel the same).
Because of this, the odds are stacked against Denis. He's still a great goaltender, and any team that gets him will definitely appreciate his talents and skills. But Leclair is notably younger, and still has room to grow and thrive. Unless something unexpected happens, look for Denis to be looking into addresses in the suburbs of Tampa Bay; or pretty much anywhere else looking for a goalie on the market.
Regardless ... if Marc Denis does depart, that'll be one more inaugural Blue Jacket no longer with the team. Whether or not you feel Denis would be the better goaltender for Jackets, it will be sad to see him leave through either free agency or a trade, whenever it happens in his career.
A potpourri of tidbits.
Argh! Too much stuff has happened and I want to touch on it all!
Lance Armstrong calls out Dick Pound; NHL chimes in
Eric at Off Wing

pretty much summed up the best way to put this: sneaky, but very effective. With Dick Pound probably on the defensive now thanks to the results of the earlier independent investigation that both cleared Armstrong and criticized WADA, the NHL is taking advantage of this situation to trumpet their own displeasure with the loud-mouthed head of the anti-doping agency.
Good on them, I say. Regardless of whether or not Pound has any semblance of logic or validity, he deserves to be called out.
Salary Cap increased to around $44 million
Great stuff and whatnot, but does this mean that MacLean will spend more this season or no? He has already made it pretty clear that even though he is able to spend higher than he currently is, that the Jackets themselves do not want to spend (or don't have to spend) near the cap.
I'm fine with not spending to the cap. It isn't always about throwing money around, as we should all know from the past (pre-lock out Rangers, anyone?). Even so, a higher cap should at least give MacLean the impression that he is capable of pushing the team salary higher if it will have some positive results. No need to be

too

frugal.
Malhotra re-signs with the Blue Jackets
Three years, for $3.6 million. I want to say that it's good to have Manny back ... I really do. But when you look at his numbers over the several seasons he has played, and also the fact that this deal was etched out somewhat close to the NHL Draft, would it have perhaps been better to just go looking at what is available down in Syracuse, or through free agency?
It has been noted that he gelled pretty well down the stretch with his linemates on the third line, so we'll see if that continues into 06-07. Here's hoping, right?
NHL Draft on Saturday
The Blue Jackets are going to be holding a shindig of a draft party starting at 4 PM EST (6 PM is when the draft itself starts), and I am all but definitely going. I'd like to meet some of the personnel, radio and TV personalities, and also see the unveiling of the draft logo that the Blue Jackets will use next year when Nationwide Arena hosts the draft. I'll be dragging my laptop along with me, and with a little luck I might be able to catch a Wi-Fi reception from the Starbucks which is at the opposite side of the arena. If not, I'll still be writing what I can as the draft goes on.
----
That about wraps up this capsule of events. There's something else I want to write on, too. Apparently there's rumors that a few deals have been tossed back and forth between the Jackets and the Tampa Bay Lightning over Marc Denis and some Lightning players.

Michael Arace over at The Columbus Dispatch

has his thoughts on it, so check it out. I'll have some thoughts on this hopefully later tonight.
It's official: Mighty Ducks are now the Ducks.
Thursday, June 22, 2006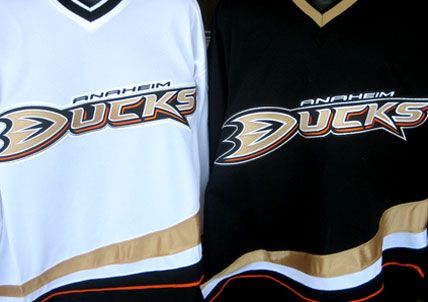 I guess when you look at the logo when it is
on
the jersey, it isn't as bad as I would have thought it would be. Up until now this (and another logo) were making their rounds on the Internet, and no one really had a 100% confirmation as to if they were real. If you're interested in seeing the other logo, I got an upload of the image
here
.
An interesting thing to note about the name change, too. Apparently sometime yesterday, the
City Council of Anaheim made absolutely sure
that it would be impossible to remove "Anaheim" from the team's name. And can you blame them? After what happened with the Angels becoming the "Los Angeles Angels of Anaheim" (what a mouthfull), it's completely understandable that they would want a written agreement that their city's name stay the dominant name in any new team name (and what a tongue-twister).
Due to the way the rules work, don't expect to see an alternate jersey for another two to three years. Apparently franchises can't create alternate team jerseys and logos until they have had a main jersey and around that amount of time.
Well, this isn't good.
Wednesday, June 21, 2006
Internet Service Providers are very fickle creatures.
I should be able to do my little write-up on the game -- and then a whole bunch of other things -- on Thursday, when my digital cable is turned back on. Until then, I'm kind of stuck. But to sum up what I want to touch on:
-Canes win the cup, leading to riots by hockey purists.
-Lance Armstrong sues Dick Pound, Bill Daly backs him, and all is well.
-Manny Malhotra gets re-signed by the Jackets.
-Salary cap is increased, and Jackets fans are left wondering if that means MacLean will spend more.
-NHL Draft on Saturday!
Be back on Thursday.
And we finally have a new Stanley Cup champion team!
Tuesday, June 20, 2006
Oh, man. What a night. What a morning. What a last 12 hours in all.
Give me until tonight and I'll have something to write up in the aftermath of the Stanley Cup Finals. I have an interview at Ohio State University to get ready for, plus other things to do today.
Until then, my congratulations go out to the Carolina Hurricanes and their fans! Full marks and praise go to the Oilers as well, who pushed the 'Canes to the brink, and almost managed to pull off an amazing, zero-hour comeback in the third period last night.
Today's the day! (repeat ad nauseum)
Monday, June 19, 2006
Today's the day!
Today's the day!
Today's the day!
Okay, that takes care of my hype quota for this post.
But seriously, this is it. This is what it all comes down to. With 6h25min to go (starting from when I wrote this), there seems to be this "calm before the storm" sort of thing going on wherever I look. Even people who lean one way or the other for either team seem to be treading lightly and quietly when tempering their words about game seven.
And really, what else is there to say? Everything that could be said, has already been said through these Stanley Cup finals, both in earlier news reports, the many blogs that align themselves with either the 'Canes or the Oilers, and through action on the ice. We've seen
tragedy
, we've seen
comedy
, we've seen
surprises
, and now we simply must have patience as the clock tick downs on the start of tonight's game.
It's been two years since anyone has seen the Cup skated around a sheet of ice in celebration of the NHL Champion team. With the team that I devote my blog and my energy to out a long time ago, these playoffs have been an amazing potpourri of channel surfing and game watching, never really attached to any team. It's true, I said a few weeks ago that I want to see the 'Canes win, but even then that is just based off of my desire to see the sport blossom in new places.
All I care about now is having a great game 7. I want to see a close game. A game where I'm yelling at the TV or flailing my arms like a lunatic because it just gets me so energized!
Most of all, I want to see the freakin' Stanley Cup awarded. Right about now I could care less about the winner. Just
show me the cup
,
and I'll be happy.
It's most definitely not hockey ...
Friday, June 16, 2006
... but it certainly deserves being linked to.
Those bat boys are serious business. Especially the Boston ones. Who needs security when you got a kid like that, right?
What's in a name?
Blue Jackets Bistro officially changes its name to Bud Light Arena Pub.
Of course this is just nitpicking on my part, but I guess it's a shame that they would have to change the name of the Bistro to something more corporate. It seems as though this is a combination of hockey teams (and the league in general) needing to show off their corporate sponsors moreso than they used to so that they stick around, and get an extra buck or two to put in to the war chest, so to speak. Maybe the extra cash in the bank is what is letting them give Shelley an additional $2-3K a year compared to the old contract (I'm kidding! Really!).

Then again, I'm a teetotaler. Maybe that's why I don't dig the beer sponsor's name replacing the Bistro name.
Hey, hey! Some actual Jackets news!
Thursday, June 15, 2006
Good things come to those who stalk around FOX Sports.
Forward Jody Shelley re-signed to a two-year deal

.
This makes me very happy. Shelley is just such a great guy to have on the ice, as he adds a sense of high-energy atmosphere to our grinder and checking lines. The fans love him, his teammates enjoy him in the dressing room, and he loves to bust skulls all in the name of charging up the team when they're low on motivation.
Signs pointed towards Shelley getting re-signed, but now that things are cemented, there's no need to worry.
However questions still abound concerning Malhotra and Suchy, and MacLean doesn't look like he's going to be backing down from his "Third and fourth line guys are dispensible" rhetoric, either.
And we're back with news at 12 ...
It took an all-nighter to take care of most of my finals work, so I now finally have some time to touch base on a few "around the league" type of topics before I head out for the day. I hope I'll have more time to write another entry tonight, but that all depends on how much work I can finish during the day. Word of advice, everyone: don't take the equivilent of six classes a semester. This is what I get for loafing around my first two to three years of college.

Oilers wins game 5. Series heads back to Edmonton:



Watching as Staal and Stillman criss-crossed their communication wires and botched that pass which led to the OT winning goal by Pisani, I felt like someone punched me right in the face. What a horrible way for a team to lose, let alone right in front of their own fans. True, there was pressure from an Oilers player on Stillman as he made the slow drifter of a pass to Staal, but it was just a bad, bad thing that happened. Worse, this was the game where Staal finally broke out of his shell. If you thought Monday's two assist game was the return of the young star, Wednesday was all of that and more. It'll definitely leave a bitter taste in his mouth that even though he had a hand in every goal the 'Canes scored, he also had a small part in the shorthand, OT winner against his own team.

I still hold out hope that the 'Canes will win it all and bring the Cup to Tobacco Road, ushering in even more fans and helping the sport to grow in a non-traditional market. I expect anarchy and riots in the streets of Edmonton if the "Southern team" ends up winning game 6 in Oiler's Country. But I won't be the man who says they win it on Saturday. No way am I making such a bold prediction.

Danny Gare becomes the newest color analyst for the Columbus Blue Jackets:

I'll admit it; I didn't know who Danny Gare was before yesterday, when the Blue Jackets made their announcement that he would be the new color analyst who will be in the booth with Jeff Rimer. And I still kind of don't, though when I have some free time to look at the full blurb on him that the Jacket's website has up, I definitely will. I did a little digging at a hockey community I go to just to see if I could get any opinions on his analyst skills, since he looks to have a long tenure as analyst for the Buffalo Sabres. All I've really heard is that he was more of a sideline type of guy than an in-booth analyst, so we'll see how this goes. It's probably going to be some big shoes to fill since he'll be taking over for Brian Engblom, who has moved on to a permanant role with the Versus crew.



(

Writer's Note: From here on out, all references to OLN will be Versus. For all intents and purposes, the NHL on OLN is officially dead, now that they're no longer covering any games this season. Here's hoping the major media outlets start to do the same soon, even if the official name change isn't until September.)

Dick Pound dicks around and pounds his chest in the NHL's direction. Again:


Dick Pound is like that little kid that didn't get enough love from his parents, so he acts out to get attention. I was already unamused enough when ol' Dicky took a pot shot at the independent investigators who reviewed the allegations against cyclist Lance Armstrong, going as far as to mention their nationality in to his criticism for good measure.

No one with a good head on their shoulders is stupid enough to believe Bettman's or the NHL's talk about how everyone tested clean this season. The drug policy is flawed, simple as that. But despite this, Pound rubs me in completely the wrong way. I really don't think he does all of this blubbering and posturing for the good of any sport, simply doing it for himself and the attention it gives.

Anyone here who is a member of the video game culture will understand what I mean when I say that Dick Pound reminds me of firey and irrational anti-game activist Jack Thompson. Loud, boorish, rude, and facts be damned. So long as he's on a personal crusade, all that matters is that he yaps and yells at anyone he sees who he accuses of using illegal performance enhancers, or leagues that don't do enough.

Obligatory "I'm still alive" entry.
Sunday, June 11, 2006
Out to Lunch
Be back at _ _:_ _ AM/PM


(I'd much rather be blogging about the current ongoings between GM Doug MacLean and some of the Blue Jackets like Malhotra and Suchy right now, or the Stanley Cup Finals. Unfortunately for me, finals week is upon me, and I have three big projects, plus mini-projects in all the same classes due tonight and then next Sunday. Hopefully I'll be able to get a little free time to write something throughout the week, but don't get your hopes up, the one to three people who read this blog. :D)
The aftermath of game one.
Tuesday, June 06, 2006
Originally I had been ready to just ramble on and on about how awesome and exciting game one was. It had the sickest saves of this whole playoffs by Cam Ward. The first goal on a penalty shot in the finals ever by Chris Pronger. It had an unbelievable, history-tying comeback by the Carolina Hurricanes who were down as far as 3-0 at a point in the game. It had just about everything that a hockey fan would ever want!
But instead, the big topic -- and rightfully so -- is that Dwayne Roloson ... the man who has backstopped the Oilers all the way from their first playoff game this season until now ... is out with a serious knee injury, and is out indefinitely for the remainder of the series.
I'll tell you this much; At first, when I saw Roloson laying on the ground after the collision into him, I was just shrugging it off. It's Rollie, after all. He's been known to do a little bit of embellishing to get a favorable call or two at times, and delights in agitating the opposing team. But as time passed and he continued to lay there, I really felt like the wind had been taken out of my sails.
I've already made it very clear that I want the Carolina Hurricanes to win, purely from a "grow the sport in non-traditional markets" perspective. But that doesn't mean that I want to see players from the other team -- especially important players -- get knocked out of the series. The fact is that he was one of the key ingredients to making this series exciting, and watchable. I wanted him to frustrate me with his great play, because win or lose it's just amazing hockey.
Either way, what has happened is now set in stone. The Oilers are now forced to rely on their backup goalies of Ty Conklin and Jussi Markkanen. Oilers Country seems all but ready to burn Conklin at the stake for his mishap behind the net with teammate Jason Smith that led to the gamer winner by Brind'Amour with only about 30 seconds left in the game. But let's be realistic here. Yes, it's a backup goalie's job to be ready at all times to come in in the event of an injury to the starting goalie. Yes, Conklin absolutely botched the puck handling behind the net, with Smith not helping his cause either (replays show that he had a couple swipes with the stick to get it under control before Brindy swooped in like a vulture preying on a wounded animal). But we're talking about the Stanley Cup finals, and with only about five minutes remaining in a tense, chaotic game one to the series.
Additionally, more blame should be heaped upon Marc-Andre Bergeron, who in his rush to catch up with a streaking Andrew Ladd, ended up throwing him right in to Rollie, and causing the season ending injury. Yeah, hindsight is 20/20, and obviously one can say that he was caught up in the moment of trying to stop Ladd from bearing down on Roloson. Ladd also apparently blew his skate out a bit, but even then he wasn't in for a direct collision course with the goalie, let alone the now wounded leg and knee.
I'm not really sure what to expect from game two. There's always that chance that some sort of miracle will happen, and either Conklin or Markkanen will take their opportunities to shine and will snatch a road win for the currently frazzled Oilers. But the 'Canes won't be backing down now, and even though they won last night they obviously are displeased with the way they played.
On a final note, it would appear that the regional prejudice never seems to end, and now with the worse possible scenario that the Oilers are in, it looks like it's going to get worse and worse. Taken from an anonymous comment over at

Covered in Oil

, we have this:
"
The worst of it is the Hurricanes are s***. Garbage. A crappy team (and ugly to boot: between Staal and Brindamour, they look like a burn victim unit) that benefited from one of the most monumental bed-s***tings in Cup history. Look, Conklin will be lucky if he ever sees blue ice again, but there's no excuse for dropping four straight goals against a medicocre team like the 'canes. None. And now...well, that's it, innit it? They're done. Carolina in four.

Enjoy it, you f***ing hillbillies, you Civil War-losing, Bush-loving d*****bags. In fact: choke on it

.
"
I don't think I've ever seen something like this -- or at least the volume of it -- when it comes to the other major sports in North America. How about you?
Monday, June 05, 2006
Between the moment I woke up this morning and right now, with about five and a half hours before the pre-game show on OLN, I've found myself all but in a frenzy of excitement at the fact that the Stanley Cup Finals are finally starting. Finally, after two years that seemed like forever, we're going to see the Stanley Cup be award to a team, be it the 'Canes or the Oilers.
Despite having lived through two Devils championships back when I lived in New Jersey (and a third when I was in Missouri and not yet fervently following Columbus), I can't put in to words just how much more exciting this finals is compared to one where a team I was behind from the start was in it. Honestly, after the lock-out last season, I could care less if it turned out to be the two teams from each conference that I dislike the most; I'd still be about as revved and up and as excited as I am now.
This is what happens when you end up having all that pent up playoff energy finally break through that never got to be used in the last season. Even though I want to see Carolina win, my biggest desire is just to see the Cup finally get awarded again. One year without the Cup is just one year much, much too long.
I'm not going to make any predictions. The last time I made a prediction for the Stanley Cup Finals was in high school, when I goaded my Colorado Avalanche fan of an English teacher when the New Jersey Devils were ahead 3 games to 2 in the 2001 Finals. I'm no believer in karma or bad mojo, but I'm definitely not going to push my luck this time and make any proclamations. All I know is that who I want to win is Carolina, but regardless of how things turn out, I want this series to turn out to be one of the best to watch.
Pre-game musings.
Between the moment I woke up this morning and right now, with still six hours before the pre-game show on OLN, I've found myself all but in a frenzy of excitement at the fact that the Stanley Cup Finals are finally starting. Finally, after two years that seemed like forever, we're going to see the Stanley Cup be award to a team, be it the 'Canes or the Oilers.
Despite having lived through two Devils championships back when I lived in New Jersey (and a third when I was in Missouri but not yet firmly planted in Columbus), I can't put in to words just how much more exciting this finals is compared to ones where a team I was behind from the start was in it. Honestly, after the lock-out last season, I could care less if it turned out to be the two teams from each conference that I dislike the most; I'd still be about as revved and up and as excited as I am now.

This is what happens when you end up having all that pent up playoff energy finally break through that never got to be used in the last season. Even though I want to see Carolina win, my biggest desire is just to see the Cup finally get awarded again. One year without the Cup is just one year much,

much

too long.

I'm not going to make any predictions. The last time I made a prediction for the Stanley Cup Finals was in high school, when I goaded my Colorado Avalanche fan of an English teacher when the New Jersey Devils were ahead 3 games to 2 in the 2001 Finals. I'm no believer in karma or bad mojo, but I'm definitely not going to push my luck this time and make any proclamations. All I know is that who I

want

to win is Carolina, but regardless of how things turn out, I want this series to turn out to be one of the best to watch.

Ho humming along.
Friday, June 02, 2006
Not much from me today. The Hurricanes managed to pull past the rough and stingy Buffalo Sabres and make it to the finals, so both congratulations to the 'Canes, and praising of the Sabres for working so hard to make it this far. I'm definitely happy for the 'Canes, and I'll be pulling for them to win the whole thing. I've seen a lot of hockey fans heap irrational hatred on the 'Canes just because of their location, calling them "undeserving". But since when did a team's location have any sort of impact on if the players should or should not win the Stanley Cup? I guess I'm rooting for them now since I have a soft spot for teams which people get down on.

I'm hoping that some new Blue Jackets' news will pop up over the weekend, since I won't be updating during the weekend because of a heap of classwork I'm trying to tackle. It's pretty hard to run a blog on a team when they're generally pretty quiet with transactions so far. I'm hoping that once the finals are done there'll be more news coming out, plus the fact that the draft is coming up near the end of the month. There looks to be a bevvy of good, available players that'll still be around when its time for the 6th pick, and I know a few people have brought up Nicklas Bäckström, but he might be a little too good to get overlooked by the first five picks.

Anyway, have a good weekend, everyone! Here's to a hopefully exciting Stanley Cup Finals starting Monday.