Wow.
Thursday, August 31, 2006
Oh, that thing peeking out from under my shirt? That's my nerdiness trying to break out.
Wednesday, August 30, 2006
I'll level with you, Hockey Blogosphere. I am 100% pure concentrated

nerd

. I

role-played

as a kid and still do occasionally. I've played probably at least a thousand different video games since the creation of the

Nintendo Entertainment System

up until now. I religiously watch cartoons, and have no qualms with taking

Bugs Bunny

or some action-packed

Japanese Animation

over watching the latest CNN coverage concerning The War On Terrorism. In short? I am a geek, and no matter how much I try to act like a professional sports blogger, there'll always be that part of me which is trying to push up his glasses, snort when I laugh, and drown myself in fantasy, video games, and the like.
But with that confession now out of the way, you at least know what the expect with this next little tidbit of mine ...
goalies
meeting
Dance Dance Revolution
.
Now I know what you more than likely immediately think ... "Oh, for the love of Patrick Roy, isn't that the stupid fake dancing game where you hop up and down on a pad to arrows on a screen and look silly?" And I am not going to deny it, either ... yes, it's that game. The one where if you don't have a grasp on what you're doing, you will look like a total klutz in front of everyone at the arcade (or in your family if you play at home).
But that isn't the point. The point here is that I want to divulge in my geekdom and my passion for ice hockey, and do it at the same time. Which is why I offer you this question ...
"Wouldn't Dance Dance Revolution actually make a pretty good exercise for a goalie?"
This'll probably take more explaining to see where I am coming from, so I've made some visual aids for you today, class. Let me show you an example of what I would normally see on the screen if I was playing a very easy, very simple song on my home version of the game. For reference, this song's speed is 138 BPM (or Beats Per Minute ... any band geeks in the audience should know what I am referring to, hopefully):
Pretty easy, huh? Pathetically easy, even. That's no harder than watching some aerobics instructor in a skin-tight leotard coaxing you along as you watch the Exercise Channel. Surely any goalie, with his lightning fast legs and feet -- despite a confined space on a dance pad (much like the goal crease) -- would be able to do that easier than kick-saving a wicked slapper by the likes of Rick Nash.
So let's speed things up ... let's speed things up a
lot
. Here is the hardest song on this particular home version, on the hardest difficulty. Once again, for reference, this song's BPM is 300-320, fluctuating throughout:
Yeah, you like that, don't you? A little "zOMG SPEEEEEDY ARROWS!" and suddenly it isn't a happy little aerobic work-out that Marty Brodeur could do with his eyes closed, huh?
So now that I've been able to show an example or two, you can see why I'd ask such a question, as crazy as it might sound. Obviously goalies can't go working out on the ice every single day (well, they
can
... but there are also off ice drills to be done as well), and I remember years ago in 2002 when I first got into this, I actually thought about how this was almost similar to what a goalie must do. You're stuck in a box, and you need to do everything you can to mvoe at the precise moments in time to step on (or "stop") the arrows as they go blazing up (or down) the screen.
...
What? I'm done. You can commence laughing at me now. :-p
So, "Jackets Time", eh?
Tuesday, August 29, 2006
Well, it was probably more my own fault than anything else for misinterpreting what FSN Ohio and the Blue Jackets had planned for the airing of
Jackets Time
between a week ago until September 29th. See, I actually thought each airing was going to be different and cover different things as we head slowly but steadily towards the pre-season and the regular season.
But 'lo and behold, Jackets Time is nothing more than a repeat each and every airing. Same Doug MacLean interview, same Rick Nash spotlight, same Gerard Gallant interview, same Danny Gare introduction ... you get the idea.
Now don't get me wrong, I appreciate the fact they even did this. But there is a lot more than they could do by actually, you know, having unique episodes of Jackets Time, and not just repeating the same one from now until just before the start of the season. They could talk about a variety of players, from the well-known to the role players to those in the system. They could even talk with some of the players.
So ... great idea, but bad execution, sadly. Here's hoping
Between the Pipes
and
The Doug MacLean Show
start up soon, so there's at least something interactive going on besides the weekly articles in
The Columbus Dispatch
.



P.S.

J.P. Dumont

to the Nashville Predators as of earlier today. After all is said and done concerning this off-season, I fear the Preds more than I fear even the Red Wings at the moment.

Zherdev, and Hats for Heroes.
Monday, August 28, 2006
Earlier in the day I'd been wanting to do my first entry in about a week, but Blogger was acting awry for some reason or another (does it ever need a reason?). So I'm only now getting around to this entry near midnight. But it's all good, right? No need to agonize over things when it's probably one of the slowest times in the current off-season.
Let's start off with the
fun rumor
that popped up sometime last week concerning Zherdev, which was:
Nikolai Zherdev to Toronto
Matt Stajan and a draft pick to Columbus
The only excuse I can even think of for this rumor popping up is that someone was either drunk, bored, or both. While some people have been quick to assume that this may very well have some legitimacy to it -- and considering it is MacLean you never know -- I find myself having the hardest time trying not to choke on this "juicy" piece of rumor meat.
Stajan is a solid player, for what it is worth. And he's also young. But he is far,
far
from Zherdev. There is also the fact that the Jackets need to have a strong showing this season if not flat out make the playoffs, and haggling for a future draft pick isn't going to help with the here and now, even if the Jackets get a player like Stajan.
My patience with Zherdev in this whole situation is growing thin, though. For a while I was understanding of his situation, especially considering MacLean's track record with wheeling and dealing with players. But as time has gone on, I've found myself more and more disenchanted with this ongoing drama. And frankly, I'm starting to wonder if Zherdev not coming back (and not being on any other teams for a year) may be a good thing, if he's going to take the team hostage like this. He's a great player, but this just seems to add a lot of undue stress to a team that is trying to make something of themselves this coming season.
But let's move on to something happier now. Something fun. Something like
Hats for Heroes
.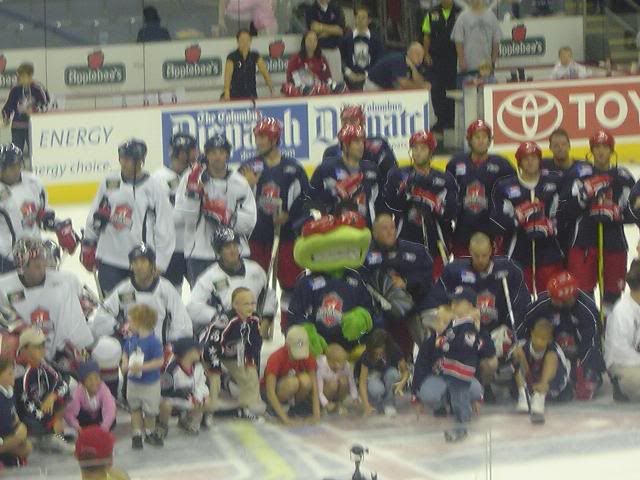 Here was the highlights from my perspective:
-The little girl with cancer -- Eden Adams -- doing her best to sing the National Anthem. I'm normally not a sap for patriotic broo-ha-ha, but this was different. Here Eden was (I'd guess she was only 4-5 years old), doing her best to sing it as she was coached along, in this meek and soft voice. There was probably very few -- if any -- dry eyes in the house from that alone.
-Another cancer patient -- Sullivan Plancon -- and the ceremonial puck drop. Just because he got everyone laughing as before he was even half-way to center ice, he went and threw the puck across the width of the rink. And then did it a second time when Tyler Wright and Rick Nash got together for the puck drop.
-The fact that I was seeing hockey again! I really don't care if this was lighter than light in terms of action. Or that it seemed like the 10-10 score was totally set up for kicks near the end just so we could see the FD and PD members take part in a shoot-out. It was just an awesome thing to do, and I am glad I was able to tide myself over with a little late August hockey.
-All of the players who are not Jackets -- or are no longer Jackets -- who came for this. First and foremost there was Tyler Wright, who has been the backbone of Hats for Heroes since its inception. Though he's now with the Ducks, he will always be welcome in Columbus for all he's done. Former Captain (now with the Tampa Bay Lightning) Luke Richardson also came back, as well as Andrew Cassels, who is now with the Capitals, and also retired Jacket turned minor league coach Kevin Dineen. There was also notable players such as Eric Lindros, who we'll all be seeing more of now that he's a Star this season.
-Rick Nash and his amazing stomach ache which kept him out from the 3rd period to the end. I think the people around me started to panic. He couldn't even make it to the autograph signing after the game, either. Hopefully it's nothing big. Then again, so long as he isn't out 10-20 games over the flu, I think things'll be fine.
-Hat signed by Pascal Leclaire! The conversation went pretty much along the lines of ...
M:

"Hey, Pascal."
P:

"Hey, how ya doing?"
M:

"Good, good. Think you could sign my hat?"
P:

"Yeah, sure. Where on it?"
M:

"Oh, anywhere."
P:

"... jeez, look at this. Dan Fritsche took up the whole hat, didn't he?" (referring to Fritsche's John Hancock across the bill of the hat)
M:

*Laughs.* "Yeah, he did that at the Draft Party before."
... and that was my 10 seconds with Leclaire. Corny, huh?
Anyway, it's getting late, and I want to get some sleep. So that's about it out of me. All in all, this was good fun that also helped out a great cause in fighting pediatric cancer.
Let's go down to the rink and have ourselves some fun.
Sunday, August 27, 2006
Update to come this afternoon after
Hats for Heroes
. If anyone is going (like Drew), I'll probably be in shorts, a jersey, and have a CBJ hat and laptop bag with me.
Oh, and my finals are now done. This means I will actually have time to scour the newswires and blogosphere again and hopefully not be inactive for 3-4 day stretches! Hurrah!
T-Minus: 45 days until puck drop.
Tuesday, August 22, 2006
Two small things, then I get to work on my wonderful, enjoyable, extremely agitating fun Philosophy final project.
Eric Boguniecki signs two-way contract with the Jackets
Boguniecki has scored 76 points (34 goals, 42 assists) in a total of 167 games in the NHL spanning about 7 seasons, with regular movement between minor league affiliates when with previous teams, Pittsburgh being his most recent. He scored 11 points with the Penguins, and 5 with the St. Louis Blues making his grand total 16 for 2005-2006.
Just looking at the overview of his records and also the scouting report, it looks like his best year of 49 points in 2002-2003 with the Blues is well behind him. But that doesn't mean that he may not have a positive effect if he is called up from Syracuse. At the moment, I am going to assume he'll most likely be starting with the Crunch. But as with many things, this can change during the pre-season camps and exhibition games.
'Jackets Time' to air on FSN Ohio starting August 23rd to September 29th
12 half-hour segments
are scheduled for air time on FSN Ohio starting tomorrow, with a variety of things such as player coverage, personnel interviews, and Danny Gare's introduction as the new play-by-play commentator to work alongside Jeff Rimer this season. If anything, this'll help to move along the slow, sloshing days of the month and a half before the season finally begins, and I am definitely curious to see Danny Gare in action. I've heard some good things about him in terms of his commentary.
T-Minus: 46 days before puck drop.
Monday, August 21, 2006
The days seem to get slower and slower as the march towards October 6th continues on. With my Finals Week upon me in my classes, I fortunately have more than enough on my plate to keep me occupied for now. But once my new block of classes begins next week, I'll be back to going a little stir crazy from the way things are.
Once again, the big news of the day with the Blue Jackets is Zherdev. MacLean recently came out with a few gems in a report by the
Canadian Press on TSN
, where he talks about his surprise and disillusionment at Zherdev saying he's more than ready to play outside of the NHL for a season.
"I guess I'm a little taken aback that it cost us in excess of $600,000 to get him out of Russia," said MacLean. "Now he's saying he wants to go back? That catches me a little off-guard. ...
"What we went through to get him out of there and now there's a threat to stay there? Good grief. It's unbelievable."
As time goes on, I come to understand MacLean's side more and more. While certainly I am far from happy with this "stand your ground" attitude of his, largely in part because the Jackets have nothing to fill the gap on the 2nd line if this comes to pass.
Beyond the bickerings of MacLean and Zherdev, I did scope out a doozy of an update on an earlier article on the CBJ website:
Hats for Heroes on August 27th - Eric Lindros added to the roster
Wow, how about that? Now given, back when I was New Jersey, my fondest memories of Lindros are of seeing him get flattened to the ice by Scott Stevens in the 1999-2000 Stanley Cup Playoffs as I watched on TV.
If anyone is in the Columbus area on the 27th, I strongly recommend going out and supporting the Hats for Heroes cause, which helps out local programs that deal with pediatric cancer. Besides Lindros, there'll be plenty of notable Jackets players such as Rick Nash, Jody Shelley and Pascal Leclaire. Gerard Gallant will also be suiting up, and even alumni Kevin Dineen and Tyler Right. There's also other former Jackets such as Luke Richardson (now with Tampa), Geoff Sanderson (Phoenix), and Andrew Cassels (Washington).
So come on down! Help out a cause, grab a bite to eat, and watch some exhibition skating and light hockey. It might not be competitive, but it certainly helps during this August lull before the September pre-season.
Can you guess what I saw from the quote last night?
Saturday, August 19, 2006
"That's it! I've had it with these mother****ing contract negotiations with mother****ing Nikolai Zherdev!"
I gave in. I had to! The hype, the Internet phenomena, the hilarity of the whole premise. How couldn't you get drawn in to going to see such a movie!? And believe me, getting me to see a movie takes the moving of mountains, especially when there is no one to go and see it with (alas, all my friends in Columbus are gone for the summer).
In case you haven't realized what I am referring to yet, it's
Snakes on a Plane
. I don't care if it means I'm some Internet sheep, or meme follower. This was the best money I've spent on a movie since ... well, who knows how long ago!
I originally wanted to talk about some non-hockey things to pass the time, and SoaP was the perfect thing to touch on. But then sometime around midnight last night, while checking the CBJ website as I religiously do, I noticed that
Michael Arace
from the The Columbus Dispatch once again had gotten a scoop on the Nikolai Zherdev negotiations.
(As a sidenote, I have to admit that sometimes it can be a little depressing that I seem to have to live off of what the real beat writers are able to get with their connections. Ah well ... such is the life of a blogger, right?)
The skinny on what Arace reports is that the time table for the deal with Zherdev has apparently shortened greatly. Further, now there's word that Zherdev will either take a respectable one year deal, or the 3-4 year long-term deal he was originally looking for. I have a bad feeling that if the one year deal is what happens, that'll be his last year in a Jackets uniform unless some good will happens between him and MacLean, as well as whether or not the team makes progress towards the playoffs. Why stay after a lousy year, after all.
I still am frustrated with MacLean's decision. Could this very well be his conscience getting to him over all the money he's tossed around previously with other players, except this time the general concensus is that Zherdev really is worth the long-term contract?
What really bothers me about this is, as I stressed in earlier entries, there is no one that MacLean could use in the system to help take over for Zherdev. And right now, none of the players on the market are either being reported as being courted by the Jackets, or even interested.
So what do you do? Hell, maybe MacLean has something hidden under his sleeve if Zherdev walks and plays in Russia this season. You can never really tell with him.

Night of the Living Hockey Fan.
Thursday, August 17, 2006
Hooooockeeeeey ...
Hooooooooockeeeeeeeeeey ...


HOoOOOOOOoOOOOCKKKKKEEEEEEYYYYY ...



It's now been a full week since anything of interest happened in Columbus. Outside of Columbus, it seems like the hockey world has hit a wall made out of concrete reinforced with titanium. With the exception of the

Where in the World is Evgeni Malkin?

saga unfolding at a snails pace, and the recent signing of

Owen Nolan to the Coyotes

for one-year, things have been dead. And I mean

dead

. So dead that I've resorted to playing archaic video games on my SNES emulator. Let me tell you, you can never get enough

Super Mario World

or

NHLPA Hockey '93

. Looking back, isn't it funny that the NHL and NHLPA have been bickering over the most trivial of things since the early '90s? There's a reason no team names are used in NHLPA '93, after all ... the fact that only the Player's Association signed on for the game, while the NHL refused to do so. And the fact they got rid of fighting in NHL '94 because they wanted to "protect the league's image"? Oh, man. What a trip.
Around the blogosphere, I am far from the only person who is dealing with this miserable August lull (God I hate August ... in fact, to Hell with the summer as a whole!).

Off Wing

has been under the weather and is using the lack of news to recoup, so hopefully he'll feel better soon.

Drew at EotB

has moved to Wordpress, and props to his new layout. It's definitely sleek and slimlined. If I had known better, I also would have tried Wordpress before Blogger since they allow for entry tags. But I'm getting a little cozy here at Blogger, so I think I'll stay for the time being.
The visit by the parents went as good as can be. The usual comments about me having to get out more (I should), I need to work out more if I want to actually play pick-up hockey (they're right, again), and to stop using so much money (I do tend to have holes in my pockets). Now they're in Cleveland and checking in on grandma, who is doing quite well after her rounds of Chemo therapy.
... oh! There

is

some minor news in terms of hockey here in Columbus, now that I think about it. The Ohio Junior Blue Jackets -- Columbus's new USHL team -- is set to start up this coming season, and their first game will be on October 7th against the Waterloo Blackhawks, the day after the Jackets' first game against the Vancouver Canucks. They've already drawn up a website which you can see

here

. Admittedly, I'm torn on the use of ... what I'm assuming is a nuclear red? But the site is still young, and I'm sure as the season rolls along they'll start adding better content -- both information-wise and visually -- to the site.
Now that that's out of the way, it's time for me to crack open some books on my Information Technology class. With finals a week and a half away from being due, my stress meter is off the charts.
It's like a sledgehammer to the head ... but worse.
Saturday, August 12, 2006
The title says it all, folks. I have a headache the size of Tony Kornheiser's ego, and it isn't looking to go away any time soon.
I just wanted to shoot a quick "Thanks!" to Alanah of
Vancouver Canucks Op Ed
for linking to me the other day via her On The Hockey Blogs segment with Kukla at
Kukla's Corner
. It was definitely cool to be getting more traffic than normal around here. :D

Oh, and in response to the Anony-comment question? Sadly, no ... I'm just your average fan with way too much time on his hands. Maybe someday I will be some inside guy with a fast track to news snippets and dealings.

... but hopefully never the type of inside guy who goes to the "

Eklund

School of Rumor Spreading." Ugh.

Other than that, it looks like things in Jackets Nation will be quiet for the weekend. And good timing with that as well, as on top of my feeling under the weather, my parents will be arriving tonight for a long weekend visit. They're en route from North Carolina (where they were helping my sis get situated in her new apartment at University of North Carolina-Greensboro), and they'll be staying a few days to visit before they go further north to Cleveland. Grandma and several relatives are there, and they wanted to check in and make sure grandma's chemotherapy went well. She seems to be doing good, so I'm happy about that.
I should be back Monday night or Tuesday morning, depending on classwork, parents, and what's going on in the world of hockey. Until then, have a great weekend!
The top games of 2005-2006. The good, the great, and the best.
Thursday, August 10, 2006
Here in Columbus, we don't have Stanley Cups or age-old stories to talk about. Many memories are quite recent, and so more than often the focus on the team's accolades are measured in games more than anything else. Let's skip the waxing thoughtful and get to the games, though.



(1:39 PM edit, next day:

Oh, right. Dur. Don't forget to go to the

Columbus Blue Jackets

website if you have a favorite game yourself and want to vote! Can't believe I forgot to mention that, since these were the games chosen by the CBJ as the top picks of the litter.

)



October 26th, 2005: Nashville @ Columbus
Oh, I definitely remember this game. With only maybe 1-2 wins under the Jackets belt leading in to this game, Nashville was considered the NHL's Goliath at that time. Why? Well, the Predators had somehow managed to string together an 8-game winning streak that started on the very first night of the season, and was the only unbeaten team at the time. Expectations were certainly not high facing the division rivals from the Music City.
I remember that laser of a shot that Foote sent screaming past Vokoun just barely into overtime. Things were looking absolutely bleak due to the fact that the Jackets were on the penalty kill, and a 4-on-3 in Overtime tends to be a date with death. But through a great breakout, Foote and Todd Marchant applied pressure and won it all, and the team practically tackled ol' Foote in celebration.
December 26th, 2005: Chicago @ Columbus
Ugh. You wouldn't believe how frustrated I was that I couldn't watch this game. I was up in Cleveland on the 26th, and I am almost certain that we were actually on the road towards Massachusetts (me, my mom and dad, and my sister) to go to Nantucket for a small little post-relative Christmas break before going home (me to Columbus, and the 'rents and sister back to Jersey).
But even though I missed this game, there was still this year's highlight reel goal from our currently contract-conflicted Nikolai Zherdev which turned enough heads to get voted on as one of the best goals of 2005-2006 in a Nike poll (or was it RBK? Either way ...):
How can you not praise a goal like this? Let's ignore any speculation that the diving through the air may have been showboating (and while this might be heresy, Orr's "The Goal" just as much had the same kind of issue with the flying through the air being icing on the cake more than anything). Even with that in mind (and better replays did show Zherdev actually got a pad rebound just before he went flailing through the air), the guy sliced through that Blackhawk defense like a hot knife through butter. Dissect the play ...
1 Blackhawk on his tail, chasing him out from behind his own net.
2 Blackhawks cut right through and between just as he crossed the blue line.
2 more Blackhawks cut through as he cuts inside (though one of them was one of the previous Blackhawks)
1 more Blackhawks beat as he stumbles to turn and try to get him with a stick.
Lastly, Khabibulin is only able to stop the rebound while tripping up Zherdev, who goes through the air and deposits the puck in the net.
Eat your heart out, Ovechkin! Yeah!
January 14th, 2006: Columbus @ Florida
I feel rather awkward that this was put up as a choice, mainly because this game wasn't even aired in Columbus, if I recall ... and for some reason I can't recollect, I wasn't able to watch it on Center Ice. I still did my best to keep tabs on it, mainly because it was a game in which Leclaire was starting. It was around this time that I was beginning to mention the accolades and the praise I had of Leclaire, who made that franchise-tying 48 saves as he was peppered for a grand total of 52 shots.
Luongo? Just a pitiful 23 shots. Leclaire won that game for the Jackets, simply put. Even if 4 goals went in, he was hit with a barrage tantamount to me using unlimited ammo cheats in DOOM.
January 28th: Nashville @ Columbus
I went to this game. This was the first game at Nationwide Arena for my mom, who was down visiting for a little while before she headed to Cleveland to check up on grandma. The things I remember about this game are short and succinct:
-The penalty kill was atrocious.
-I wanted to strangle something (but not my mom, of course) as I watched that 2-0 lead turn in to a 3-2 deficit as the game went on.
-I am almost positive that one of our goals on Nashville that was registered for Vyborny was actually an own-goal that was given to us through some horrid flub by the Predators. But without recaps available online now, and with my mom and I are the completely other side of the arena watching, my memory is hazy.
February 2nd, 2006: Columbus @ Edmonton
This game was actually nothing much to talk about. However when the game happened, the Jackets were doing their best to extend their winning record into a franchise best 5 (though this was eclipsed later on by a 7 game winning streak). If I recall, during this streak, the Jackets never had a lead in the beginning. But that could actually be my recollections from the other streak later into the season). This was one of at least 2-3 consecutive 2-1 wins (or shootout wins) during that streak.
March 25th, 2006: Columbus @ Detroit
Heh heh heh ... eheh heh heheheheh ... ... ahahahahahahaaaa!!
Okay, okay. I'm sorry.
Back when this game happened, I was still just a random face in the FOX Sports Blog area, not getting any attention and just babbling to a group of people who normally couldn't care less about hockey. This is what I wrote about that game that very night around 2 AM in the morning:
The Aspiring Intern - Of comebacks, and David and Goliath
I won't deny it. I turned the game off after halfway into the second period, just feeling nauseous. Here the Jackets were, once again being beaten to a pulp by the Red Wings as always. I don't know what it was, but I turned it back on ... I guess I felt I should see this game through.
The rest is now etched in to Jackets history. No matter how pointless this game may have been, this had to be the brightest moment in a single game for the Jackets ever since they first started playing.
... though it almost became the second brightest after what happened a couple weeks later in Detroit. I tell you, after those two games? I swore to never turn off a game until the bitter end, no matter what.



(NOTE:

The manical laughter is

not

of the mocking variety. It is of the kind I had when we won that game and I just about blew a gasket or two from sheer, euphoric insanity and disbelief. Honest!

)



April 18th, 2006: Dallas @ Columbus
I went to this game as well, knowing that I just had to go to the Fantastic FANale even if the odds of beating the Stars weren't pretty good, even as they rested a fair amount of their top players.
What happened was just an awesome game, if extremely dramatic. After being up as high as 3-1 over the Stars heading in to the 3rd period, the Jackets all but began to crumble under the pressure. Soon it was 3-2, 3-3, and finally it was 4-3 in favor of the Stars. With hardly any time left, Hartigan got the goal we needed to force OT.
The icing on the cake? Fedorov getting his NHL-recird tying 14th OT goal (and obviously game winner) with a great shot that was sent right past Johan Hedburg. After that I stuck around for at least a half hour to an hour, as the Jackets and Adam Foote thanked the fans for the support this season, and a bunch of fans got the jerseys off the backs of the players that night.
All I got was a lousy frisbee. :-p But the person a row above me caught one with Fedorov's signature, meaning they got his jersey. Lucky sonuvagun.
TV Schedules and defensemen!
Wednesday, August 09, 2006
We got a veritable bonanza of things to talk about today! It's like Christmas in August! ... except not. Let's go with the more exciting news as of the moment first:
Jackets release TV Schedule - 81 out of 82 games to be aired!
This is quite awesome. While I'm sure that there are other people out there with their playoff-bound teams and their regular coverage by the media going "Yeah, whatev-- ... we get all 82 games broadcast on television either regionally or nationally", this is still a great thing for a Jackets fan. If I recall, we only had one game on OLN last year, no games on NBC, and about 76 games on FSN Ohio, leaving us with nothing for a choice few games (the ones I can recall off the top of my head are a home game against Phoenix, an away game at Phoenix, and probably one of the games during that Southeast swing through Florida. As well as one game while away in Nashville).
This season, however, FSN Ohio will be covering 75 games this season, while Versus (OLN for those not up to speed on the name change) will grab 3 games and NBC will grab another 3 games. The odd-man out? Dallas @ Columbus on March 9th. Mark your calendars, folks, since I'll be going to that game so that I don't miss a single one this season.


Barring trips out of the area, of course. Alas, FSN New York or FSN Ohio (Cleveland) probably won't have Jackets games. And by probably I mean definitely.
But in any event, I find it pretty darn cool that the CBJ will actually be getting 6 games on the national coverage level. This shows that beyond the fans here in Columbus, there are people in the media hierarchy who also believe that the Jackets may put on a good show this season, playoffs or not.
New defenseman on the block: Filip Novak signs a two-way deal with the Jackets
Yadda, yadda, "club policy" ... blah, blah "terms undisclosed". Let's skip the rant on the NHL's choice to normally not release financial info. I don't really understand the big deal about it ... but I'm no General Manager (if I had a penny for every time I've said that ...).


But let's get on the topic of Novak himself. To me, this seems like a safe, sensible, and possibly rewarding deal. Novak probably has been under the radar for a few reasons, specifically the fact that he was injured all of the 2003-2004 season, and then the lockout came the next season. He did play 11 games with Ottawa this past season with little result. However despite that, he still racked up 52 points (44 of them assists) in the AHL with Binghamton.


Will he be the next coming of Bryan Berard, who is currently our most producing powerplay quarterback (TSN does, after all, call him a PP specialist in their scouting report)? Definitely too early to say, and I don't expect to see him around with the Jackets unless he really turns some heads either at training camp or when he's down with the Crunch. But I have a good feeling about this guy. Just don't hold me to that comment ... I tend to regret them.


Come back tomorrow and I should actually have something new. The Blue Jackets website is holding a poll for anyone to vote on their favorite CBJ game of last season, and FSN Ohio will then air the top four games sometime before the season starts.
If you're a Red Wings fan, I'm pretty sure you know which one I'll be voting for (... and apparently the majority of people so far!). I'll be talking about each of those games (or the ones that I was able to catch out of the list) in an entry tomorrow.
Dopes, doping up, and dopes that sensationalize the dopers.
Monday, August 07, 2006
So Floyd Landis is now proven guilty. I won't beat around the bush and say things like "allegedly", or "not until he admits his guilt", or other pretty words or phrases to sound politically correct. This little op-ed I am writing out today isn't about the semantics of how I refer to Landis, his positive tests, and the ensuing crumbling of credibility any time ol' Biker Boy opens his mouth and talks about how he drank some whiskey which had been laced with synthetic testosterone while his masseuse rubbed natural testosterone into his inner thighs while taking his testosterone-laced hip medicine via direct injections just 5 minutes before leaving the bar where he was drinking said whiskey and going on to win the 17th stage of the Tour de France.
(Wow. I think I went a little overboard there.)
With that out of the way, the real focus of my gripe is the way that everyone's favorite "mainstream" editorialists and sports reporters are seeming to all but bemoan how thanks to Landis, now we can never
dream
. We can never
believe
. We must always doubt
every
miracle comeback or amazing show of athletic prowess. In short, "God is dead."
I'd just like to take this moment to say I think Jay Mariotti deserves to be decked with a puck to his thick head, since he's one of the people who has been ranting and raving like this all of last week and from when Landis first tested positive.
It pisses me off. It annoys me. It
agitates
me that because some Joe Average in a sport that is notorious for doping is caught red handed, that means that every other sport is dirty on the level of the Tour de France. Does every sport have its dopers? Of course it does. No one believes the bull that the NHL threw out to the public when it said that not a single player tested positive this past season (Bryan Berard and his non-NHL test excluded), and most everyone knows that Jose Canseco could all but drag Major League Baseball through the mud several times over with the inside information he has yet to talk about (and has already talked about as well).
Maybe I'm just ignorant, though. Maybe I am just naively optimistic and totally off when I say that the Tour de France isn't the standard for the popular sports here in North America. Do I have my doubts at times? Sure, of course I do. But to tell me that we may as well start questioning every little "odd" happening in sports doesn't rub me the right way.
In short? Enjoy the damn game. If someone gets beat with the suspension stick for cheating, then we know they cheated. But until then, keep on being wow'ed and amazed by some of the more spectacular plays and shocking shows of athletic prowess without a second thought. Hockey -- Hell, all sports -- are more enjoyable when you don't agonize over things like that while you watch them.
Polls, websites, and was the maker of NHL.com toked when he made that layout?
Friday, August 04, 2006
I'm no da Vinci, folks. I'm far from it. That much is obvious from my trials and tribulations in hammering out an efficient, working, yet visually appealing blog when there's no news happening or I don't have my nose to the college grindstone.
But a friend of mine and I were chatting recently, and one of the things that came up was the National Hockey League's website. She's one of those people who lives her life in Photoshop, so I hear plenty enough about her adventures into web design for people's pages, and one of the recurring issues was ... well ... the fact that NHL.com looks like a 10th grader's mid-term project for his high school web design class.
Let's not just analyze the NHL's website on its own without comparison, though. Let's look at the web sites of the other three major sports in North America (no, NASCAR is not one of them).
Here we have
MLB.com
, the home of -- you guessed it -- Major League Baseball. Here's what you can gather from just a glance over of the main page itself:
This site is packed --
packed!
-- with all sorts of information on the front page alone. A full listing of daily scores on te left, drag down menus up top, a changing image and news story in the middle ... crap, do you even need other pages for this thing? It's got everything on the main page alone! Of course the drawback with this is the fact that with a lot of content comes the possibility of lag, even for DSL/Cable users. Depending on how lucky you are when loading up, you could get 1-2 flash files (the daily games list and the center image/news), or 5-6 if the advertisements are feeling sadistic. Beyond the fact that you could find out anything you ever wanted to know on the front page, the layout at least works well graphically.
Next up, we have every red-blooded American's favorite sport (unless you're a dirty Communist) and their website at

NFL.com
. Once again, you have your ever-changing main image and headline, though this one is slightly left of center instead of direct center. If you look closely enough, you can tell that the far right sidebox is overlapping the "Headlines", "Features", etc. banners a bit, which makes the whole thing seem rather cluttered. Once again the options for scores, schedules and the like are actually up top and not on the side like with the NHL's website. Notice anything else? No? Well, let's move on to the NBA's site before I point out probably one of the more obvious boons that each of the non-NHL sites share.
If I had to pick a site which had the right combination of visual appeal with a dash of actual use to the site, it would be
NBA.com
's site. Now keep in mind that I
loathe
basketball. I would never be able to be any happier if basketball simply vanished when I woke up tomorrow morning (unless I saw the NHL average a 3.7 Nielson during regular season games ... that might be give me equal amounts of happiness).
But my dislike of the sport aside, those people at the NBA know exactly who to get to make a website. It has bells and whistles without going overboard. It manages to have an equal amount of visual aethstetics as the MLB's site without resorting to using too much, and it hardly goes overboard (I'm looking at the NFL when I say that, and their desire to put images of all 30 NFL teams up top).
Most importantly, though ... and this is the difference between the NHL's site and each of the others:
They actually use the whole page!
Look at

NHL.com

. What's with that huge, empty void on the right? Are they assuming that everyone is still using 800x600? There is so much room on the site that could be better used. Give us Fantasy news. Give us a streamlined and small box to check out game scores on the fly during the season. Hell, give us something beyond an abundance of advertisements at the top, bottom, and the side! I understand that every page must use advertisements, but compared to the rest ... the need for numerous banners and not just a pair of smaller ones seems ridiculous.
Well, that just about wraps up my tirade for the night. If you've read this far and kept with my broken and somewhat sporadic train of thought? Congratulations! I've actually added a poll to the bottom right of the sidebar asking all of you readers which of the four sites you prefer visually. But feel free to also choose a site depending on the main page's content as well. By all means, some other commentary on what you like or dislike about the NHL's website (or the others) would be much appreciated and welcome.
The 5 Things I "Weird" About Me.
You know, it's 1:12 in the morning (EST), I don't see myself going to sleep any time soon thanks to an abundance of caffeine overdose due to a rush to finish my Philosophy assignment, and now that it is done I have nothing else to do. With that said, why not do something that isn't related to the Blue Jackets. Of course, that would be a meme, as I have now been "tagged" by
Jerseys and Hockey Love
. Besides ... Thursday nights tend to be the lazy ones to just do some more random things, right?
But enough digressing!


1) I played college hockey.
While this might sound like any old, non-weird thing at first ... the reality of the matter is that prior to joining with the Club (it was D-III equivalent) team at Allegheny College in my first (and only) year there back in 2001-2002, I hadn't had a lick of on-ice, competitive experience outside of clinics and pick-up hockey no longer than about 1 1/2 years. To think that I could actually play hockey with a bunch of guys who'd played beyond just casual summer clinics was beyond me.
As it turned out, I managed to get about 4-5 minutes a game, and even pulled a goal and an assist out of my behind somehow in the 10 games we played in our season. I'm still wondering how the frell I did it, too. My parents have the goal in a little box somewhere back home in New Jersey.
2) I can't (won't) drive a car.
See, there we go ... now this one is a kicker in the Weird-O-Meter. Back when I was in high school, me and another classmate were being driven by our instructor to the DMV. Just as we were getting to a T-Bone turn (or fork in the road ... whatever), no more than 15 feet from us, two cars practically slammed right into each other, right before our eyes.
Suffice it to say, that wasn't what I wanted to see when I was on my way to take my first Learner's Permit test ever.

Since then I've been rather paranoid of getting behind the wheel with the exception of driving off-road on places like the beach. Probably doesn't help that public transportation in NJ/NY is so good it spoils you.
3) I'm invincible!
Well, not quite ... I'm probably one of the few people I know who, despite living an active, sports-filled lifestyle, has never broken a bone or done anything outside of perhaps a small strain. Though there was the one time that soccer ball in high school decided to say "Hello!" to ... er, yeah. Let's move on, shall we?
4) I eat frozen French fries. I also eat NO vegetables.
This one definitely falls in the "weird" range. What can I say, eh? It probably has to do with my inability to properly make frozen fries (of the Ore-Ida variety) beyond nuking them in a microwave (which isn't even the proper way!).
Now there's also the lack of eating vegetables, which I guess contradicts eating fries ... only technically. But actually, it's an exaggeration. I eat corn, I eat potatoes, and I eat nothing else. My taste buds are the most muxed up, sensitive, easily agitated things ... and none of my past experiences with broccoli, peas, green beans, or spinach have ever been good. If you ever invite me over for the dinner? Make sure you have a Hungry Man-type dinner of meat, meat, and more meat out. Hold the salad, please.
5) I didn't go to a "real" high school.
This is kind of hard to explain, actually. I'll just get this out of the way and say right now that despite my officially recorded higher than average intellect (gloat gloat ... okay, I'm done), I am the King of Procrastination at the same time. For years I struggled and flailed my way through high school in the beginning, getting the lowest of the low grades and having a "Devil may care" attitude to the whole situation. As a last resort my parents sent me off to a "learning center" 45 minutes away from home for classes, while I was still technically enrolled as a student at Columbia High School (the public school).


Two years later I graduate on time and receive a $500 bonus scholarship from my school for being the most "ambitious" and "driven" student. Though I guess you could look at those two words in different context depending on who you are and how you know me, huh?



(Actually, that was their way of letting me know that my confrontational attitude was both valued and loathed at the same time. Heh.)



------------

And that, actually, wraps it up! Considering it's now over an hour later and past 2 AM, I have a feeling I might have flubbed this a bit. But then again it takes a lot to flub a meme, doesn't it? No, I won't be tagging anyone ... I tend to have a pretty strict No-Tag Policy when it comes to other people. So fear not, as no one will be put on the hot seat by me.

And with that done, I am now going to continue trying to figure out how I can re-add my profile box to the layout without ruining it. As it stands right now, the CSS code for that one box is agitating me quite a bit.
Just reading this news makes my throat sting.
Tuesday, August 01, 2006
Clint Malarchuk - Blue Jackets' Goaltending Coach
I mean ... wow. Okay, what am I supposed to say about this? All I know about ol' Clint was what happened in 1989. Just ... eeeuuuugh. I think that's etched into my mind thanks to the somewhat recent barrage of

other

blogger

entries

about

Malarchuk, like when that toy company released the figurine of the horrific accident.
Alright, I'm done. I'm shaking away that mental image. I'm not looking at the

YouTube

of what happened. Really, moving on.
I really wish him all the luck as the goaltending coach for the Jackets, and really hope that he'll have a positive effect on Leclair as he gets ready for his first official season as starter, and whoever is behind him (Norenna or Conklin). I wish I could say more, but my knowledge about Malarchuk is limited, and it seems like he's been pretty quiet ever since the one year stint as goalie coach in Florida in 2002-2003.
Blarf! Yeah, I have no witty title today.
Sorry, folks. I've generally been living under a rock over the weekend and the early part of this week. The truth is that I've been all but torn apart with a combination of many things. If anyone cares, three things that caused chaos and mayhem happened here this weekend:
1) Algebra. That
always
causes chaos.
2) The bathroom was flooded by the people above me. Apparently they have never heard of emergency maintenence, and so let their tub sit with overflowing, flooded water thinking it would magically fix itself. I was half-tempted to go and take my goalie stick with me upstairs and give them a piece of my mind.
(Note: Michael does not condone violence ... off the hockey rink, at least.)

In the event anyone is curious to see what had happened, I rather boredly recorded the aftermath and YouTubed it

here

. On the plus side, the people above me are apparently moving out on the 20th of this month.

3) I've been extremely busy getting my place as cleaned up and as hospitable as possible. My best friend is going to be coming up here from New Jersey and staying with me for the next several weeks while we catch up and he looks into Ohio State's Grad program. So that may also take a small bite out of my updating schedule unless anything real big happens.
To save time, trouble, and delving through each post which had a comment, I'll just reply to them all here? Sound good? Good!
Tapeleg
- Thanks for pointing me in the direction of your Avs blog! As well as the other blog you pointed out for me. I added you already, but sorry I didn't mention it earlier.
Doogie2K
- I'm Resident Lune over at Wikipedia. I know I've seen you around a lot in edit histories and at the project, so good to see you around Blogger as well.
Ingmar
- It totally slipped my mind to add you to my blogroll after I got your comment, but thanks for pointing me in your direction. I know I'd seen your blog before somewhere, too, and the more Blues blogs the better.
Drew
- Okay ... the Write On Sports thing. Well, let's see ... to be honest, I'd say it's worth considering. The way I look at it, it seems like nothing more than a hub for active sports bloggers, and there's already a bunch of similar places like that, such as Blog groups like Technorati, except this sounds a lot more sports oriented and with a bit of emphasis on quality, too. It doesn't sound like putting one's blog on there is going to bring the plague or anything, but I may wait and see how the site fleshes itself out before committing to anything. He did say that it'll be about a month or so before it's up anyway.

With that taken care of ... do I have any hockey news to talk about? Well, yes and no. There's always news going on outside of the Blue Jackets, and I may very well touch on that later in the day if I have a moment to sit down and sift through what's been going on. I know that

Hasek got picked up

(for the third time) by Detroit, and for the most part there's plenty of rumbling and grumbling in Hockeytown, even for the piddly price tag he's got as a one-year salary.

There was more talk about Zherdev over at

The Columbus Dispatch

, but it's really nothing that I didn't already muse on, and I pretty much agree that this one year difference with little to no salary difference is hopelessly lame, and I wish MacLean would just give him the deal. I don't want to spend the offseason worrying about a huge gaping hole the size of an X-Box in our top two lines.

I'll see what sort of entry I can rustle up between now and tomorrow. Even if this is the offseason, I tend to feel guilty if I neglect the blog for even just a couple days. Almost like I should be doing something with this, even if it doesn't touch on the Jackets.