Fedorov; Sergei "Maverick" Fedorov.
Thursday, July 27, 2006




Oh, Fedorov. What whacky antics will you get into next?


For the full story, Michael Arace has it covered over at
The Columbus Dispatch
as always.
... yeeeaaah.
Wednesday, July 26, 2006
Oh, God! It's like someone threw up in my CSS coding! Someone get a hose to wash this away!
But, really, please forgive the total abomination that the blog looks like at the moment. I'm about ready to kill the nearest puppy or kitten from agitation with trying to add a new box above the "About Me" one, where I can put a few records.
I did, though, manage to make the Blogroll
much
more expanse. If I mislabelled any blogs, feel free to point me in the right direction ... and maybe point me towards some blogs for teams which currently have "Vacant", too. I'm a little surprised and ashamed of myself that I couldn't find one on the Avs of all teams.
Rangers and Panthers head south ... way south.
Tuesday, July 25, 2006
Rangers and Panthers confirm playing a pre-season game down in Puerto Rico
Goooooooooooooooooooooooooooooooooooooooooooooooooaaaaaaaaaa aaaaaaaaaaaaaaaaaaaaaaaaaaaaaaaaaaaaaaaaaaalllllllllllllllllllllllllllllllllllllllll
llllllllllllllllllllllllllllllllllllllllllllllllllllllllll~!!



(Heroes of Hockeytown gets full credit from me for making me think of that in the thread I made at LGW.com about this.)

Mythological beast re-signed by the Blue Jackets.
Saturday, July 22, 2006
Hybrid animal monster of Greek lore to stay in Columbus for two more years
Okay, okay, I'm done milking Jason Chimera's last name. I've always been a bit of a mythological buff, and really, Chimera is one of my favorite Jackets. Seeing him and MacLean hammer out a deal before arbitration hearings began was definitely a good thing.
MacLean talks about Chimera's speed in the press release concerning the re-signing, and he's dead on. The guy is flat out
fast
. Probably one of the top skaters on the whole team when it comes down to who can sprint across the ice. The only real problem has been his follow-through when he bursts through and into the offensive zone. While he can go from 0 to 50 in about three seconds, he has always had some difficulty when it concerns out thinking or out deking the defensemen he runs into. Obviously no one expects him to go and pull an Ovechkin, but it's still something he has to work on. And he most likely will this season, too.
Use your noodle: help Wikipedia out!
Friday, July 21, 2006
What better way to spend downtime than to help fill in much of the currently empty or lacking hockey articles on Wikipedia?
Forgive the plug. And yes, I know, Wikipedia isn't a "real" encyclopedia, and all other kinds of criticisms. But if there was ever a place where one could be able to help out in some capacity to archive much of what is going on in the world of hockey, Wiki would be it.
Honestly, whenever I am not wrapping my brain around functions, numeric symbols, or what Aristotle believed citizens should do and not do in my classes, I almost always have Wikipedia open and ready for editing to an article or two if I feel the desire to do so. I also created the currently used team infobox that you can see on all of the different teams for the National Hockey League (example

here

with the Montreal Canadiens), and am trying to think of a possibly better season-by-season record layout, along with other members of the WikiProject Ice Hockey group on Wiki.
I bring this up because I know there are plenty of people out there, bloggers and non-bloggers, who probably have a wealth of knowledge that they could put to great use. In fact, we're in the process of trying to turn the article on the

Stanley Cup

into something worthy of being a Featured Article, which does take quite a bit of time and effort. Not only that, but

Wayne Gretzky

was a Featured Article about a week ago, too.
So if anyone feels that they'd like to help out ... well, hey, go for it. It'd be even better if anyone would like to keep track of WikiProject Ice Hockey, and maybe throw in some input there as well. Just remember to register ... not that you have to, but it's always nice to have new members not behind Anonymous IPs.
Not even nuclear meltdowns are this ugly.
So apparently over the course of the past two days a bomb the size of China obliterated the Long Island region, and something about an employee revolving door, a backup goalie, and "GMs by committee" happened with the New York Islanders.
Being the busy body I am, I had no time at all to touch on this before the dust had settled, since I wanted to join in on the shock and awe of what happened. So instead I'll direct people here, here, and here to see some of the better reactions I've seen concerning the nuclear meltdown on Long Island.
In any event, some important -- but not as dramatic (unless you're a Jackets fan) -- happenings are going on in Columbus, and they all revolve around everyone's favorite Russian (or Soviet since he was born there? Or Ukranian since that's where he'd be from now?).
No, not Anna Kournikova's former boy toy ... the other one! Nikolai Zherdev. As reported at both
TSN
and
The Columbus Dispatch
, Zherdev isn't happy with the current deals he has gotten and has threatened to go and play with the Russian Superleague if he doesn't get what he wants. And what does he want?
Why, a three-year deal, of course. Apparently Zherdev is looking for a little security and location stability, and has stressed that he really likes Columbus and would like to stay there (but then again, what player doesn't say they like a city when they're looking for a long-term deal but are being rebuffed?). The problem, in MacLean's opinion, is that he has yet to show any sort of drive or serious attempt to not only build himself up and become stronger through conditioning, but also make a concentrated effort on learning the English language. Interesting since his only teammate that speaks Russian is Federov, so you would assume that he would be making more of an effort than if he had several teammates who spoke his native language, meaning less pressure.
MacLean has said he won't go above two years, but is apparently willing to dole out the cash for those two years anyway, if the "substantially more money" claim about the two-year deal is true.
What bothers me the most about this is MacLean's ho hum attitude:
"I'm not worried about it," Blue Jackets president and general manager Doug MacLean said. "We'll attempt to sign him, but if we don't, we move on and he goes back to Russia for a year. There's no doubt we'd like to get him signed, though. We'll see."
Look, it's obvious that there's still two and a half months before the deadline to sign Zherdev, so it isn't like they're racing the clock in the final minutes of the off-season to sign him. But even so, saying you're not worried is
not
the smart thing to say when the player that is holding out is supposed to be on one of our top two lines. Like I emphasized in an entry a while ago, the Jackets main problem has been its offense, and there is absolutely no one out there at the moment that I can think of that could be traded for -- or got on the free agent market for that matter -- who would be equal to Zherdev in both output this year, and projected output in the following years due to his young age and room for potential growth.
So to say you're not worried about it ... well, that worries
me
. Especially the rather disattached "whatever, we'll move on if he doesn't sign with us" attitude. Hardball is a great tactic, but it isn't like the Jackets are in a position to play it, like more successful teams with enough depth to shore up any holes from missing players.
Leclaire, finally, is re-signed.
Tuesday, July 18, 2006
Pascal Leclaire re-signs for a two-year deal. Terms undisclosed
Not like this wasn't going to happen. I'm a little surprised it took this long, though ... I wonder just how much cash MacLean doled out for him. Either way, a two-year deal seems just right when you consider how long or how short of a deal he may've been looking for. Since this will be his first year as the undisputed starter (hopefully), it makes sense to sign him to something that doesn't keep him here forever in the event that he bombs (which I really hope doesn't happen, of course).


Now we can go back to playing with our crystal balls and taking guesses at which goalie will be the backup and which will be the reserve backup. My guess? Conklin will actually start as the backup while Norenna gets plenty of playing time down at Syracuse, and if he shows he can translate his good Swedish League play to quality play in the AHL, they'll call him up and send ol' Conks down to the Crunch. While that might sound a little loopy, Norenna doesn't sound like a guy who'd prefer sitting on his hands if he can be down with the Crunch getting in play time, even if it is in the minors. Conklin, meanwhile, will probably take just about anything after last season, backup or otherwise.
The NHL in the eyes of a hockey elitist.
On a morning whim, I decided to make up a map if the NHL was run by one of those typical "Southern Hockey Sucks!" types of fans. This was after some guy at the LGW.com forums boasted about how Northern and Canadian teams sell out no matter how bad their teams are, while all Southern fans are just fairweather. I got to tell you, I don't get it. Is there some sort of unseen border that apparently once you cross it you'll never find a hockey fan on the other side?

Eh. Either way, I had fun with this. One thousand hours in MS-Paint, man. True story.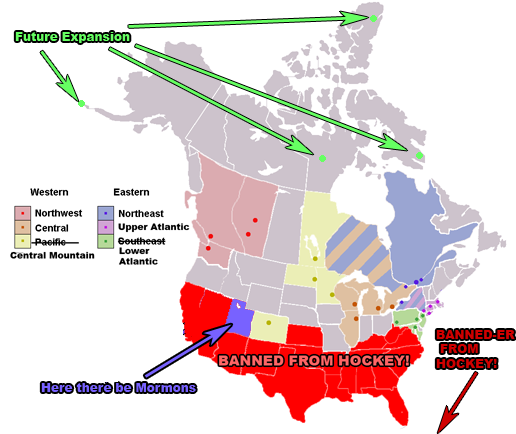 I'd say it's about accurate, right? Though I'm sure people would prefer some traditional names for the divisions and conferences, too (which I'd actually like).
Blog Overhaul: Part Deux
Sunday, July 16, 2006
Well, I had originally wanted to do more with this blog in the graphics and layout department back when I had added the header and changed the colors (plus tweaked fonts and box sizes) much earlier on when I started this. Now though, since my week is looking to be pretty quiet, expect to possibly see some changes to how Army of the Ohio looks over the week. It probably won't be much since I grasp Photoshop about as well as I grasp Algebra, but I do want to make the layout generally more informative, as well as appealing.

I'll also be adding new people to the Blogroll in the process, and adding a direct RSS feed link on the page (thanks for pointing that out to me, Skraut). On the off-chance that anyone else who reads here has a hockey blog not mentioned as of yet, feel free to put it in the comments section and I'll see what I can do.

Until then, peace out.

The old, the new, and the schedule.
Saturday, July 15, 2006
This week turned out to be much more of an adventure than I expected it to be. I never realized just reading Algebra could give someone a frontal labotomy.
Anyway, now that I have some free time and have escaped the grasp of Polynomials, Fraction Division, and other evils of the Math world, let's see what I missed this week.
The return of the King: Ron Tugnutt wants to be the CBJ's Goalie Coach
Okay, so I'm exaggerating on the king part. In fact, it's kind of hard for me to speak of Tugnutt due to the fact that he came and went from the Jackets before I began to follow them. But despite my own lack of experience with the guy as a Jacket, I do know that he was the Jackets
very first starting goalie, and as such had been loved and enjoyed by Jackets fans. With a .917 Sv.% in his first of two years with the Jackets, I'd say that looking back he was a great guy to grab back then.
But would Tugnutt make a good goalie coach? Good question, actually. The Jackets are in need of a new goalie coach now that Rick Wamsley is gone to the division rival Blues. Tugnutt spent the last season working the commentator booth over with the Senators and CBC, so he's two years removed from playing in the NHL. That could be looked at as a good thing, however, since it means he's had time to step back and get a better view of the game from a bird's eye view, while still able to draw from his own experience as a moderately stable goaltender throughout his NHL years.
Season schedule released! Now with 100% less Southeast Division!
There goes any shot of seeing the Big O -- Alex Ovechkin -- skating his way into Columbus during the 2006-07 season, eh? Instead the Jackets will be rolling out the red carpet for the Northeast, while packing their bags and heading for the Atlantic. Thanks to the meet-up with the Northeast, the Jackets will get a little taste of the Original Six. Beyond that, I may try and set up a little roadtrip slightly east if I have the time to catch the Jackets in Pittsburgh. I was hoping that maybe their away game against the Devils would take place in late December to early January when I am home for the holidays in North Jersey, but alas, it's in late October.
FSN Ohio will cover 77 out of 82 games as is part of their network deal with the Jackets, but of course since the schedule is less than a week old, you won't be seeing any TV schedule anytime soon. At least not for another month, I'd assume.
Wright thinks coming back to Columbus is 'right'?
Aaron Portzline of The Dispatch picked this story up. It looks like Tyler Wright's long, 12-year career is in jeopardy of ending. Or at least taking a year off from the NHL. With the exception of one possible offer from the Preds, Wright says that little has come his way. At the same time, he mentions that he's always loved Columbus, as has his family and that he'd like to come back. But at the same time he isn't going to go buying into a two-way deal, much like Conklin did with the Jackets last week.
While it would be nice to have an original Jacket back, Wright himself admits that the Jackets are moving in a direction which seems to conflict with his ever returning to the franchise. It's good that he realizes this, too. Beyond his numbers dropping in the production department, his play time was always dropping like a boulder off a cliff. In all, he played 43 games last season between Anaheim and Columbus.
Maybe if no one else picks him up, he might reconsider the offer that the Jackets made for him as a member of the CBJ radio/TV analyst crew. But now that Danny Gare is the new color commentator, that may not be possible.
For a wrap up, Drew over at
End of the Bench
makes mention of the other coach shufflings beyond Tugnutt's ambitions, and shows defiance against what he views as a blogosphere-wide opinion that the Jackets are sitting on their hands when it comes to free agents and other dealings. I can't say I blame him, either. But at the same time I can't deny that I'm also a little wary of the lack of deals made by the Jackets, either. So I'll just ride the fence on this one.
And now I'm going to go and get some lunch. Maybe I'll go hit up Damon's Grill or something.
Well, all the cool kids are doing it ...
Monday, July 10, 2006
And on goes the Word Verification option now that I've been spammed twice in the comments section with online poker ads.
Guess I gave too much credit to flying under the radar for bots like that to notice me, huh? Either way, now it's time for bed. Maybe I'll wake up tomorrow and find that MacLean signed someone new, or Chimera worked out his arbitration issues with the team.
Rupp goes back to New Jersey.
Mike Rupp picked up as a UFA by the Devils
Even though Rupp never really had a big impact with the Blue Jackets, I still liked the guy. Consider it nostalgia talking when I say that, because I was following the Devils back in '03 when I was still living in New Jersey (though in college in Missouri). I remember how pumped and hyped up Rupp was about the fact he got that game winning goal in gave seven of the finals against the Mighty Ducks (now the Ducks). When I found out he was acquired by the Blue Jackets before last season from the Coyotes, I actually thought that was pretty cool. It's too bad his season ended prematurely with 19 games to go because of heart irregularities.
Well, good luck back in swamps of Jersey, Rupp. Hopefully I'll see you around the Devils if I happen to have Center Ice and a Jackets game isn't on.
The rantiest rant of all rants.
So Monday is my free day. Let's see what I have missed out on talking about all last week before I go for a run and then grab a bite at McFatty's, shall we? First, what I mentioned in the last two entries:
Ty Conklin (and Tomas Kloucek) signed by the Blue Jackets
Seriously, Doug ... why Ty? Listen, I understand that maybe you're hesitant to have Pascal as the starting goalie, and a goalie who has never played in the NHL as his probably backup. It's a legitimate concern, considering the fact that Leclaire may very well be somewhat prone to injury, and Fredrik Norrena -- despite his accolades across the pond -- hasn't a single game of NHL experience. But Ty just does not seem like the answer.
I admit, he's getting a pretty nasty rap for his flub in the Stanley Cup Finals alone, but his regular season numbers are something that you do not want to see in even a backup goalie. Obviously we have little to worry about since the deal is a two-way contract, but I just can't understand it.
Beyond the signing of Conklin, there is also Tomas Kloucek who got signed to a similar two-way contract around the same time last week. I've never seen Kloucek play once, and so all I can really go on are his numbers ... and they aren't pretty. When TSN calls him a "Defensive Defenseman", they really mean it, since his point output is 0.07 points per game (10 points in 141 games).
Look, obviously defense is nice, but
the Blue Jackets need offense
. Look at our stats last year! We were ranked 28th in goals, man ... 28th! 29th in Power Play, and 29th in shots.
Sigh. I need a drink ... soda, not beer. Anyway, moving on.
Carolina Hurricanes sign Letowski 'away' from the Jackets
I wouldn't really give this much notice, except that Spector chided the Jackets for not "sparing" an additional $800K to their current payroll to keep Trevor in the mix here in Columbus. That being said, I think the best way to counter the criticism of the Jackets not signing Letowski again was best summed up in this comment by Canuck's blogger and fellow LJ Hockey member
Jes Golbez
over at
The Acid Queen's
blog:
"D00d, don't expect much from Letowski. I found him to be rather disappointing defensively (he wasn't that good). He's got speed, but he doesn't always hustle like he should. If he's not playing at 100% effort at all times, then he isn't doing his job. Basically, he's a 4th line center that can fill the role of warm body #12."
In other words, the Jackets don't need him. Gilbert Brule and Alexandre Picard are already all but locked in to move up to Columbus from their respective junior/minor league teams this coming season, and we were already keeping much of last year's forward core as it is. With Modin also coming in, Letowski was no longer needed. Not on the third line, fourth line, or any line.
Chimera opts for arbitration
I'm glad Jason is staying. He's like a quicker, scoring, and somewhat smaller version of our own Jody Shelley. And when I say quicker, I really mean quicker. Anyone who has watched a Blue Jackets game knows that at one point in almost every game, Chimera will suddenly come blazing out of nowhere like a greased pig with the puck. The only problem is that he has this kamikazee-style of doing it, which ends up leading to either poor man breakaways or breakaways just not producing because of the lack of thought put in to them. Nonetheless, he's a great guy. Everything I've seen about him shows that he's just always eager to play, and definitely one of those motivation guys you like to have around. Here's hoping it just doesn't cost us an arm and a leg after arbitration to keep him, eh?
---
Anyway, something to point out. My main concern right now is that almost every player Doug has been signing ... has been someone who has either not played in the NHL (Norenna), not played in the NHL a lot (Kloucek), or not played in the NHL in a while (Eriksson). Frankly, I don't want to see MacLean going out and getting some huge, big name guy ... honestly, that isn't our concern. We have Berard and Foote manning our top defensive line, and our top two forward lines are brimming with young talent mixed with veteran experience.
But MacLean needs to go about doing a better job of signing the guys who make things work in the background. None of this signing traumatized goalies or guys who were supposed to blossom into amazing players but then fell flat. This upcoming season will be the sixth, and as pundits are quick to point out, the 'new NHL team' line is starting to lose out to the march of time, and the inevitable fact that the Jackets need a playoff berth to earn respect, let alone keep the people of Columbus interested in something beside the Buckeyes.
I'm not crazy! I'm ... just a little unwell?
Saturday, July 08, 2006
One thing readers here will soon come to expect from me is that if I say I am going to update 'tomorrow', 'later', or 'later in the day' ... you should expect that very update somewhere between double to quadruple the time I first gave. So really, when I said 'later' two days ago, I meant much, much later.
... yeah. Sorry, folks. Actually, I've been under the weather the past couple of days ever since I went and tried out that BD's Mongolian BBQ downtown across from Nationwide Arena. Good food, but I've been pretty fatigued for no real reason since then. I also have a big math project due tomorrow along with something on technology for my Information Technologies class.
Honest, I'll try and get some free time tomorrow to wrap up some of the CBJ ongoings. In the meantime, have a random image macro showing the overall reaction to Conklin in Columbus, inspired by my favorite image board's best Internet meme ever:
"It was a stupid play, and I blame you, but I don't blame our team!"
Thursday, July 06, 2006
Ty Conklin to the Blue Jackets
Permission to hit the "Panic" button yet on the Jackets current free agency wheeling and dealing?
Eh. I'm at Starbucks trying to relax and do my classwork. I'll get back to this later when my mind isn't on a million things ranging from David Hume and Philosophy, to Ty Conklin and fubars.
The Central Division, and those scary ... Blues!?
Tuesday, July 04, 2006
So that "30-year-old defenseman" that MacLean spoke about and I curiously mused on a week or so ago? Turns out that it is
Anders Erikkson
, who hasn't played in the NHL since the 2003-04 season.
I'd be lying if I said that I'm not concerned about the lack of movement by the Jackets in the free agent market. While we made a notable move with trading Denis for Modin and Norrena, very little beyond re-signing and shoring up qualifying offers to RFA players with the Jackets has happened.
I think what concerns me is the fact that the all of the other Central Division teams seem to be getting notably stronger at the moment ... well, with the exception of the Red Wings, who seem to have been just as silent as the Blue Jackets so far in terms of UFA signings. As for our other Central neighbors ...
The Blues got
Doug Weight
back, picked up
Bill Guerin
from Dallas, grabbed
Dan Hinote
from Colorado, and let's not forget their #1 overall draft pick in
Erik Johnson
, who everyone keeps referring to as a young Chris Pronger (does that mean he, too, will have a nagging wife? Kidding, kidding).
The Blackhawks, while not anywhere near as bold in their signings as the Blues, picked up
Patrick Lalime
, who I assume they hope can make a stable backup to Khabibulen (or even compete for his starting spot, considering Khabi all but imploded with the new pad size regulations in the "New NHL"). They also got the #3 pick in
Jonathan Toews
.
The Predators, who were already pretty strong last season -- and could very well have made it further in to the playoffs were it not for Vokoun's heart condition hampering his ability to play (though Steve Mason playing as backup did a commendable job regardless) -- picked up one of my favorite and former New Jersey Devils (it's hard to imagine him as a Star even after four years of him being there)
Jason Arnott
. There's no question that they'll be in that same position next season where they'll be in the playoff hunt.
So with all of the other teams getting stronger from the UFA market, anyone couldn't help but want to know what is MacLean waiting for? Four days might seem like a short time in the grand scheme of life, but when it comes to just how fast people are snapped up in the NHL when the UFA signing season rolls around, one can't help but feel somewhat concerned.
Part of me wants to say that I should keep the faith, though. Remember, the Blue Jackets had something like the top 10 or top 7 records in the second half of the season, and many of those guys from then will be coming back. We also have a lot of young guys now making the jump up to the NHL from the minors, such as Picard and Brule. But even so, it's hard to know what to expect from those two, as their time up with the Jackets last season was very minimal.
Either way, I don't really have my fingers crossed when it comes to expecting anything in terms of new signings by MacLean. Like I said in my last entry, the Jackets are already in that "comfort zone" of a salary cap that MacLean has said he wants to stay in, once you factor in RFAs and contracts that have yet to be officially made public by the Jackets, or TSN and their payroll records. If I see any new names coming in from outside of the Jackets or their minor league affiliates, I'll be surprised.



Edit (9:27 AM, 7/5):

Man, I must've been somewhere else mentally when I wrote up the Nashville section yesterday and put in "Toskala" instead of "Vokoun". Thanks, Drew.

Money for nothing, and the chicks for free.
Sunday, July 02, 2006
Arace once again comes through with a good article on how the Hurricanes have now become the blueprint for how to efficiently balance a team salary with skill. For those interested,
here
is a link to his new article at The Columbus Dispatch.
As Arace points out, Blue Jackets management and ownership are shooting for around $32 million to $36 million as the team salary once the season begins. After doing some easy number crunching thanks to TSN's
Payroll Commitments
section, the Jackets currently have a salary rounded to about $27.5 million. I was generous and assumed on good faith that Balastik's, Svitov's, and Eriksson's salaries would be for $500,000 apiece, just so I'd have numbers to work with. This leaves the Jackets with between $4.5 million and $8.5 million until they reach their self-imposed cap, followed by $16.5 million until they hit the actual league cap.
Of course this ignores players who are going to come back, but have yet to work out the kinks with qualifying offers (RFAs). This means at least for now, we don't know how much Leclaire and Zherdev were offered (or at least I don't), and how much they'll earn next season once haggling is done. Other notable players who probably (or definitely, depending on the person) will be back are Jason Chimera, Dan Fritsche, and Aaron Johnson, as well as Ron Hainsey. So that's six players who have yet to have deals agreed upon, but will most likely be coming back. So by the time those deals are done, will the Jackets be in their self-implemented "comfort zone" with no more wiggle room until they feel they'd like to get a player down the line? And even then, as the Arace article points out, using that extra cap space all depends on how the Jackets are doing and if they're still alive and kicking a few months into the season.
It's making my head hurt trying to figure everything out. But now I have Philosophy assignments to mull over. If anyone sees anything wrong with my numbers or names, do correct me. TSN's UFA and RFA list seemed off kilter at times, and even lacked a few people that SI.com's list had, making things more complex than I expected to analyze.