Game #07: Blue Jackets vs. Sharks
Monday, October 23, 2006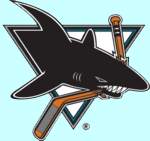 Columbus Blue Jackets (2-3-1)
San Jose Sharks (6-2-0)
Ugh. You ever have one of those days where you just feel like laying down and not doing a damn thing? This is one of those days for me, largely in part because this week is the last week of my second to last block of classes. With that in mind, just a slightly belated warning that things may be a little quiet around here this week, since my nose will be to the proverbial grindstone. Apologies for not having any sort of recap on the Penguins' game from Saturday, either. To make up for it? Just a few thoughts from the game, made short and succinct:
-Fredrik Norrena played both great and not-so-great at the exact same time. I really have a hard time trying to form an opinion on the guy so far, since this was only his first start ever in the NHL. So for all of you Blue Jackets fans out there calling for his head? Cut the guy some slack. What was he supposed to do, play like Patrick freakin' Roy?
-Has there ever been a penalty shot goal or shoot out goal so far this season or last season in which the puck richocheted off the pipes, then on to the goalie, then slowly trickled in? That actually surprised me a little. Not to say it wasn't a legit call to count the goal or anything, just that I hadn't seen it happen before.
-David Vyborny has 8 points in 6 games. Even if we expect no less from him, it's still great to see at least one of the Blue Jackets top six forwards producing at such a rate.
-How long until the defense "gels", and if it doesn't, how long until the Blue Jackets do something about it? I already said in comments in the game day preview I wrote that I have a hard time trying to figure out what the Blue Jackets can do about the defense situation at the moment, but there has to be some sort of action that can be taken when it comes to the players and bringing someone in, moving someone out, or whatever.
Anyway, let's move on to tonight's game against the San Jose Sharks, who are sitting pretty with 12 points out of a possible 16 so far. The scary thing? Even with a 6-2-0 record, they're still third place in the Pacific Division. As of recently, the Sharks have taken a bite out of both the Dallas Stars and the Detroit Red Wings, but then lost to equally potent Minnesota Wild on Saturday. So don't expect them to be coasting along on the ice after getting washed out 4-1 at home.
Speaking of divisional standings, though ... what's up with the Central Division, eh? As crazy as it is, despite the Blue Jackets 2-3-1 record in 6 games, they still are just a piddly 2 points behind a Red Wings team that's also stumbling out of the gate. In fact, the whole division looks like it's on hard times. Nashville's in 1st, which isn't surprising ... until you see it isn't exactly a strong 1st place with a 4-3-1 record. After that, every team is either at or below .500. I guess when the rest of your division is struggling, you can take at least a little solace in a slow start since it means that you haven't been totally left in the dust just yet.
That and the Blue Jackets are still at least two games behind everyone else in the division in terms of how many have been played. I guess there's some positive aspects to that annoying layoff at the start of the season.
Numbers and standings aside, two important things about tonight's game, first one being the anticipated return of Sergei Fedorov to the team. I really,
really
want to say I am excited to see him come back, but I also don't want to get ahead of myself and start saying that this will make everything different for the Blue Jackets when they play tonight. It'd be stupid to do that, even if a healthy Fedorov makes the team better. So far it looks like he'll be
put on the 2nd line
with Zherdev and Modin, though as always expect Gallant to start playing around with the lines the moment the team looks flat. That, and this was just what was seen during practice, so you never know.
Then there's also
this
doozy of a surprise: Alexandre Picard being called up for tonight's game. Picard, as you may recall, had a strong pre-season, however ended up being one of the last CBJ players to be sent down to Syracuse when the roster was finalized for the start of the regular season. MacLean even admits in the article by Portzline that Picard just got the short end of the stick when it came to who was sent down, and it really was a matter of space. So can Picard show that he wants to stay with the team in just one game? More importantly, will he even get a chance to do so if he's stuck in the limbo that is usually the fourth line?
I got to start reviewing my final project syllabus for each of my classes now, though, so I'll be wrapping this up here.
0 Comments:
Post a Comment
<< Home