Blue Jackets: 0 ... Avalanche: 3
Friday, November 17, 2006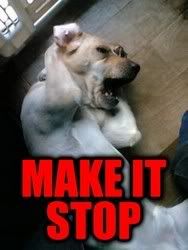 It burns us, preciousssss! Burns usssssss!
I'm starting to learn a lot about how I handle a horrible team I put a lot of energy and devotion into after the past two seasons with the Blue Jackets. Like I mentioned in posts long ago, I grew up in New Jersey and up until around the lock-out, was a devout follower of Lou Lamoriello and the Devils. "In Lou We Trust", neutral-zone trap, legendary goalies, three Stanley Cups in nine years, and so on and so forth.
So you get used to winning. Even if it bores you to death, like the Devils would do for those last two Cups, you still enjoy knowing that the playoffs are pretty much a lock.
What are the Blue Jackets supposed to do? Nothing is going right.
Why isn't Doug MacLean
fired yet
? Everyone is clamoring for GMDM's head on a pike in Columbus, and yet the McConnells and the rest of the ownership seem content to let him twist in the wind, and as a result let the Blue Jackets continue to do so by association. Why aren't fans getting angry at the ownership for taking this long to
do
something about this hole that's been dug? How many General Managers would have lasted this long, even with the free pass of the CBJ being an expansion team, which has now long expired?
I don't know. Maybe my anger is misguided. But to tell you the truth, I hear very little rage towards ownership. Part of it might be that while they seem to have made a horribly fatal error in keeping GMDM around so long, their intentions are noble and they really want to see this team thrive. If I had to make an analogy, I'd say this smacks of the recent elections here in the U.S., where slick Dick Cheney (GMDM) seemed to have all the right words to keep his power and also keep friends such as Donald Rumsfeld (Gerard Gallant) in power, while George W. Bush (ownership) naively went along with things until the voters (CBJ fans) called them all out with a referendum.
The analogy is pretty slipshod, but it still illustrates my point: ownership has been too naive to GMDM's pure and utter failings, and doesn't seem to have the stomach to kick the guy out.
Ever since I arrived in Columbus and started to pick up on the Jackets, something that always stood out to me was the "friendly" atmosphere that the team seems to have. I can't put my finger on it, but to sum things up, I'd say that the whole team and management is just plain
soft
. That's the best word I can use to describe why nothing seems to be done around here. Management is too busy double talking and trying to appeal to fans with regular interviews and radio shows, players are too busy being chummy with one another, and ownership is afraid to do anything extremely drastic or take any real risks with an organization shake-up.
You want to win? Then stop being so fu-- ... gosh-darn soft. What the Hell does this team have to lose? They're last in the division, the conference, and the
league
! When you hit rock bottom, you have all the ability in the world to start trying something different, which this team needs to do.
Bench Nash. Fire GMDM. Bench Foote. Put the Pepsi Patrol on the roster and replace Pascal Leclaire with the freaking Mongolian BBQ mascot out on the concourse. I don't care! Just
do
something!
This rant was brought to you by the number 3.141592653... and the letter Ж.
Labels: Avalanche, Blue Jackets, post-game
1 Comments:
Post a Comment
<< Home