Game #18: Blue Jackets at Predators
Saturday, November 18, 2006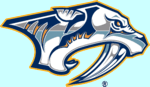 Columbus Blue Jackets

(5-11-1)
I've seriously got a headache the size of the mean streak in my last post. I walked 40 minutes to Lenox Town Center (Columbusians know where that is), then 40 minutes back, since I knew getting a ride there or some other mode of transportation would've taken even longer. Why? Because of some big football game. Apparently it's the game of the century against these two random teams. I hear there's been a lot of hype about all of it. I don't even know their names!
I really got nothing to say on tonight's Blue Jackets/Predators game, though. I mean, just how much can you harp and snark on a team until it just becomes redundant? It's especially difficult when they don't do anything, either. All I can really think to say is ...
a) Please stop trying to do so many things on your own, Zherdev.
b) For the love of God, just score

a

goal tonight.
c) Please give the goalies some support. Their own mistakes notwithstanding, they're still being totally left for dead by the team.
With that, I'm off to pop some Aleve and watch the rest of the Buckeyes / Wolverines game. I might not like football, but the energy around here is just too contagious to try and ignore. So with that, I leave you with the best "Without sports ..." commercial ever, especially considering today's game:
Rah, rah, Go Jackets, etc. etc.
Labels: Blue Jackets, Michigan, OSU, pre-game, Predators
0 Comments:
Post a Comment
<< Home