Game #20: Blue Jackets vs. Blues
Wednesday, November 22, 2006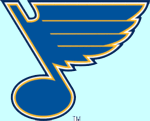 Columbus Blue Jackets (5-13-1)
St. Louis Blues

(5-11-3)
Whoops! No sooner do I tease the other CBJ bloggers about the silence after that Predators smacking around on Saturday night, I go AWOL over the start of the week and miss out on the second smacking around by those same Predators. Talk about your irony, right? But alas, I've been busy with my classwork. Funny how even though I am only taking two classes this nine-week block instead of the standard three I'd been used to the last three blocks, it seems even more time-consuming.
That, and I have a job now! I'm now working at The Blueline. It's just part-time and in retail, but everyone has to start somewhere, right? I start Sunday afternoon when I work one of the Ohio Junior Blue Jackets games.
However this brings up an interesting conundrum: should I be concerned about being found out here? Bear in mind I've been using my real name from the start, which makes it impossible for me to try and take on an alias, like how Truth Serum at
EoB
does. We've all heard the horror stories about how someone writes something bad on their blog about their superiors or people in the business network (example: me taking GMDM and the ownership to task a few entries back), and next thing they know they've been pink slipped and shown the door.
I'm going to have a headache over this for a while as I jump between excited to nervous. But I think in the end, I won't be sacrificing my integrity as a fan of either the sport or the team, even as I ask people to buy cute Stinger dolls and autographed jerseys. And who knows, maybe this will actually be a good combination of things!
Let's get to talking about
tonight's game
, though. Coming to Nationwide tonight is our fellow cellar dwellers from Missouri, the St. Louis Blues. Two points ahead of the Blue Jackets by the good graces of having 2 more OTLs than the CBJ, the Blues are coming off of a 4-2 loss to the Vancouver Canucks, where they were shelled 44-21 in the shots department. For all intents and purposes, the Blue Jackets have yet to officially hit rock bottom. With the exception of a heartbreaking 1-0 loss to Chicago and a pair of losses to Colorado this month, all other recent losses have been to obviously stronger teams such as the Red Wings, the Predators, and the Oilers.
But if they lose to the Blues? Well, let's just say if MacLean wasn't so attached to Gary Agnew, he'd be sitting on the curb outside of the Bud Light Arena Pub entrance down on Nationwide Blvd. after tonight. It isn't that Agnew hasn't tried to right this sinking ship, or anything ... he's tried, as much as he could be asked to try as an interim head coach thrown to the lions during a swing of games that's been extremely daunting. But during this 0-4-0 period under Agnew, the bread and butter of why he was brought up as an assistant coach in the first place -- the power play -- has dropped from a modest 14th place in the league to a depressing 21st place. Blame can go beyond just Agnew and to the players, of course, but once again this was his responsibility and why he was brought up from Syracuse in the first place.
Besides issues with Agnew, the Blue Jackets have to deal with the possibility of a scratched Rick Nash, who is dealing with a groin injury right now and is day-to-day. But, I don't know ... could it be a good thing if he has to sit out? Nash has been unable to produce in almost any way, and has not been able to meet expectations with about a quarter of the season over. While being scratched because of an injury is certainly different from being a healthy scratch, this may still give him time to take a deep breath, step back, and think. Right now his problems seem to be of the mental variety, so an extra day or two of rest and recovery could very well help.
Meanwhile, Stevie Goertzen has been sent down to Syracuse, and who will come up in his place?
Geoff Platt
! Platt hasn't been up with the CBJ since the second game of the season, which was a 5-4 win over the Blackhawks back in early October. He scored no points in two games, had one penalty, and was a -1. But even so, I've felt all along that the team should have given Platt more time in Columbus at the start, considering he was the most productive Jacket during the pre-season. I have a soft spot for Platt and the fact he was an undrafted signing by the Jackets last year.
Maybe he can instill a little youthful energy into this team, the likes of which we haven't seen in weeks.
Go Jackets!
Labels: Blue Jackets, Blues, pre-game
0 Comments:
Post a Comment
<< Home