This man fights for FREEDOM against Albertan tyranny!
Sunday, December 03, 2006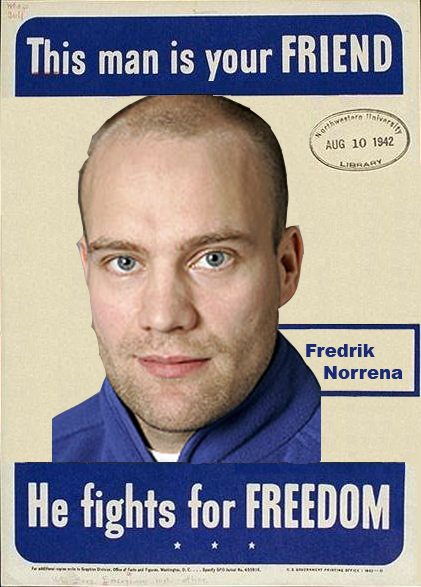 So now both of our plucky goaltenders have one shutout apiece this season! In truth they should have about two apiece at least, considering how hard they've been both playing since day one.
Fredrik Norrena is different from Pazzy, however, and you could tell from the way in which he earned last night's shut out. Norrena isn't as flashy or as lightning fast as Leclaire, but at the same time he has a much stronger sense of puck control both on his stick and with his body, as well as puck awareness that only a grizzled veteran netminder ('rookie' only by NHL standards) would have. He doesn't let out many rebounds, and when he does he smothers them faster than a fat guy smothers an all you can eat buffet table.
One of the more interesting points of tonight's game beyond the goaltending of Norrena (who while I gush over, still did only make 21 saves in all thanks to a sound defense around him cutting shots down and even blocking a bunch of them), is the way that the Blue Jackets
crashed the net
. Gilbert Brule's goal? The result of bearing down hard and fast the second he saw the puck all alone behind struggling goalie Dwayne Roloson. The Anson Carter goal? Quick thinking that, while wasn't a textbook example of crashing the net, was still an example in how to drift away from the defense while still very close to the net, and just tapping one home when the puck comes to you.
Amidst the hooting and wooting over tonight's win, it should be noted that Nikolai Zherdev was out with an "upper body injury", while O.K. Tollefsen left the game with an injury as well during the game and never returned. Meanwhile, the Oilers had some pretty bad injury issues of their own. They already had a good few players out, including one of their top point getters in Alex Hemsky ... and now Ryan Smyth is out with a fractured thumb. If you thought the Blue Jackets' recent karma was a bitch, the Oilers can at least match that level of frustration (then again,
they're
still in the playoff hunt, so it could be infinitely worse).
So now the Jackets have Sunday and Monday to practice and relax some after this win, and then it's down to Colorado for a game against the Avalanche, who also are on R&R until Tuesday after a 2-1 loss to the Canucks.
Labels: Blue Jackets, Oilers, post-game
2 Comments:
Post a Comment
<< Home